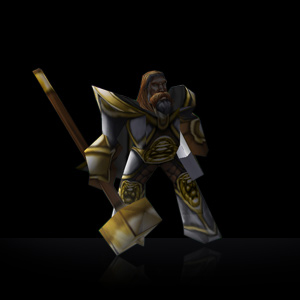 Story
An institution older than the Regnum itself, The Church of the Twin Suns preaches the word of the the Father, and lords over the work of the Mother. The religion with the most followers in the Peninsula is organized in three major groups: The Monks, represented by a pair of begging hands; The Bishops, rulers of the church represented by the Sun; and the Paladins, the disciplined and well-thaught knight-friars represented by the warhammer, as of the last centuries splintered into several orders with different political and ideological positions due to the Crown having more and more Paladins under it's command.
Son of the late Eoghan Shieldbearer and Knight Master of the Order of the Sun -the original order that united every Paladin under it's banner- Edgar has set himself with the mission of uniting all of the orders once again and declaring it's independence from the state. A daunting task he was sure he would complete, but the tragic death and ultimate revival of Edmund, his brother in blood and in arms, has weakened his will and his conviction. Duty, sadness and justice have brought Edgar to the Bastion's gates. His eyes stare into the future: the inevitable battle, the blood stained soil and the painful mission of honoring his brother's life by beating his dead corpse to a pulp.
Statistics
Name: Paladin – Edgar Shieldbearer
Primary Attribute: Strength
Affilation: Coalition
Gender: Male
Race: Human
Role: Defender
Damage: 28 - 38
Armor: 4
Movementspeed: 270
Health-Regeneration: 0.25
Mana-Regeneration: 0.01
Weapon Type: Normal
Cooldown: 1.9
Range: Melee
Start Health Points: 750
Start Mana Points: 285
Abilities

God's Seal:
Blesses an allied unit with the seal of the Sun, reducing any damage it receives and increasing its health regeneration. The seal breaks when after receiving a certain amount of damage, hurting enemy units around by the same amount of damage received. If the seal is not broken, it will heal all allied units around the target for 50% of the base regeneration. And if the target receives lethal damage, the seal will block it. It expires after 9 seconds or when broken.


Star Impact:
Edgar calls down a Falling Star that, on impact, damages and stuns all enemy units, and splits into several smaller stars that deal less damage. The Star takes 1.5 seconds to summon.


Holy Strike:
The Paladin enchances his mace with holy power, causing his next attack to deal bonus percentage magic damage to enemies around the target. Holy Strike will be activated automatically once the cooldown is over.


Holy Cross:
The Paladin creates a Holy Cross at the target location. Enemies that enter the Cross will be silenced for 2 seconds and will receive damage over time if they stay too long. Allies will receive less damage and an increased life regeneration. The cross lasts 7.5 seconds.
All Details:
Forsaken-bastions-fall.com