First a piece of FOT:R related artwork which was created by Mr. Morgan. This will be one of the new loading screens for the mod.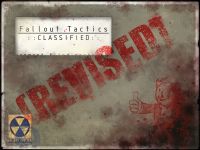 Next up the progress update on the mapping for Mission 1, which is nearly complete.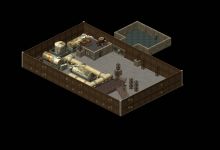 In the first shot you can see a general of view of the underground areas. The second highlights the bottom area of the pre-war industrial complex, which has an office and a storage area that might contain some valuable goodies.
Operation Bunker Jack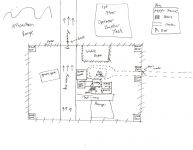 I've handed the mapping for Operation: Bunker Jack over to Mr. Morgan. Also I posted a rough drawing of the layout of the map. The complex is a pre-war airbase with an extensive underground facility.


Weapons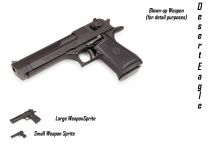 The new weapon sprites for the Desert Eagle (standard) chambered in .44 Mag.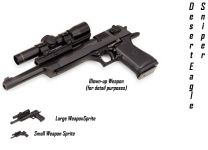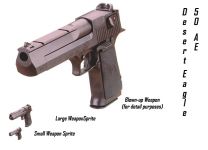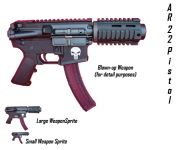 The two upgrade forms of the Desert Eagle are suited to different roles. On the left is the Desert Eagle with a scope chambered in .44 Mag, which is an excellent weapon at a distance. On the right is the Desert Eagle chambered in .50 AE, which is perfect for close encounters.
The bottom picture is an upgraded weapon available for the default M4A1 rifle. This AR pistol is chambered for .22 LR and is extremely effective for pest control.

Ammo

I'd like to introduce the work of the mod team's newest member PyrO17. PyrO17 will be working with to create various sprites,tiles and objects for the mod.
In an effort to make the mod more realistic each weapon (where possible) will use the proper ammo i.e. the AK47 will use 7.62x39mm and the AWP will use 7.62x51mm (.308). There will however be plenty of ammo available so that a specific firearm will not be rendered useless due to the lack of ammo.