Alright, so I'm aware that has been two-years since my last update. Starting today, that changes but first here is a little backstory on where I've been.
A lot has happened since then: (the short version)
Got my Degree in Math and Physics
Started working on my PHD
Got Married
Now...that is a lot of life experiences in a blissfully short amount of time and don't get me wrong I'm not complaining it has been an awesome crazy and sometimes scary roller coaster. I'm very thankful for all of it.
I started this mod for myself, because it was something that I enjoyed doing, I shared it because I felt that others in community would enjoy it. At some-point I lost sight of that, I started gaming more and modding less, to the point where I rarely if ever even logged into Mod DB itself. This was a serious change as Mod DB and this mod were part of my daily routine. The mod was rarely worked on and the community that I so loved to be a part of was neglected. No longer, I'm back and so is this mod.
Now with that out of the way back to the interesting stuff. Starting this moment I'm taking back full developmental responsibilities. That means a couple of changes.
Here is what I'm going to-do:
Updates every two-weeks on Friday starting this week (These will be smaller than previous updates, but much more frequent )
Implement Darin's new Character Sprites (where appropriate)
Mapping is going to take a back burner (it is very time consuming)
Initial focus is going to be on redoing the existing weapons (both stats and sprites)
After that I'm pushing out a tech demo (this will include the redone weapons, the existing mission 1 and probably not much else)
I'm going to rebuild the mod from the ground-up(I'm not discarding any features yet, just ensuring a smooth transition)
A public document to track the progress of the mod (Not sure how to handle this one yet)
Here is what is on hold or not happening:
Additional story lines, major modifications of the existing story arcs (on hold)
Any character sprites modification (just not currently possible.
Now to the fun stuff: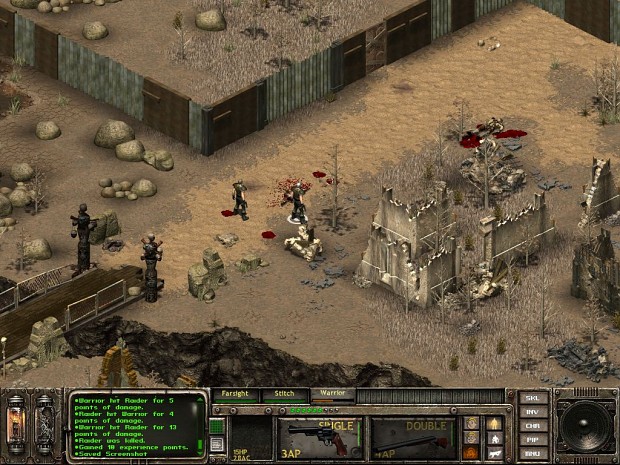 This screenshot shows the new sprites for S&W M29 and Beretta Silverhawk 470. I'd also like to point out the new GUI bar (props to BlazeK and Ox-Skull from The Wastes). Finally, if you look carefully you can see the new Leather Armor Character Sprites (from Darin over at NMA).
Alright that is it for this week.
I want to sincerely thank everyone for sticking with us. We're re- kicking this off properly. As always feel free to contact me if you have any feedback or questions.