Today we have a preview of our newest map, Guerrilla. Set high in the mountainous jungles of Vietnam. Guerrilla features lush foliage perfect for hiding deadly trip wires and traps. You'll need to keep your head on a swivel and move slowly to spot all your enemies in this treacherous environment. If the jungle wasn't dangerous enough by itself, there are also narrow paths winding precariously along steep cliffs. So if you aren't careful you may find yourself plummeting to your death if you misstep. Discover and explore lost ruins that have been reclaimed by the jungles dense undergrowth and tree roots, but don't wander too far from your squad or you might end up lost and alone in the dark labyrinthine jungles of Vietnam.
If you like what you see, don't forget to vote for us for upcoming Mod of the Year.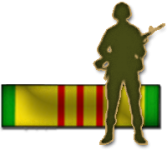 As always be sure to join our forums to get all our news updates first and chat with the developers.
Fallofsaigon.forumotion.com
Also if you are interested in helping us develop this mod, feel free to sign up in the forum and post in the recruitment section.
We are always interested in working with talented individuals.