As you see, the name of this mod is "Fall of Civilizations", but you may not yet find anything besides regular medieval stuffs in the pics and previous news.
Today I am going to tell you why it is Fall of Civilizations.
In the FOC mod, we have 3 systems just as in the AOE3 they have Natives, Europeans, and Asians. The 3 systems in FOC are:
Civilized Nations, Rising Nations, and Nomads.
Today I want to illustrate a little bit about the Civilized Nations. They are:
Italian,Byzantine, Spanish, Persian, and China.
At the first time you update your age, you'll have to chose an antient civilization you want to revive.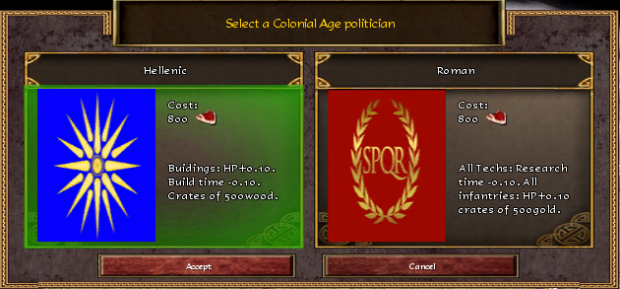 This is a choice for Byzantine Empire. Hellenic & Roman.
Every ancient civlization will give you some long-run benefit as well as some short term support. For example: The long run benefit for Hellenic is increase the HP of all Buildings and reduce the buildpoints.
Different ancient civs will led to different age-up politicians in next ages.
The currrent design is :
Byzantine: Hellenic/Roman
Italian: Roman/Etruscan
Spanish: Cartharge/Celtics
Persia: Seleucid Empire / Parthian Empire
China: Qin Dynasty/ Han Dynasty.