As Left 4 Dead is unleashed on the world today today (highly recommended), I have a bit of news. We sent our 3.2 files to Valve last week. It will now be tested by the Valve QA team. We are hoping to have it released by early December (sorry for the delay). The team is working on the next version in the mean time to add even more content to ES.
One of these new enhancements we hope to bring to 3.3 are extra player models to better differentiate the classes. Daniel Williams has been working on one of these and has pleasantly surprised all of us with his great NGM Hacker model.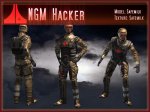 We're looking forward to battling you in the next version as soon as it comes out. We'll be looking for a bunch of server admins to help us take all the traffic we are bound to get. The latest word from our testers has also confirmed this: the new game modes are awesome (especially demolition). Ask them for yourselves.
Back to the Zombie apocalypse
Dan