This is a clone of the recent Dire Website update which can be found at Dire.bhivedesign.com
Toki is nearing her final stages, which makes the team and I very pleased. Sound be being recorded, music is being made, and the code is being...typed. Progress in all departments is seen everyday and we are nearing our goal of having a complete Demo out by Christmas.
Some minor tweaks are being made to the website in the next couple days and we will also be releasing a .EXE file that will take you to our IRC room instantly and without worry of another page loading and kicking you out of the room. Much is happening here and I look forward to the next huge update which I hope will include a video of the finished model of Toki and some of what she can do.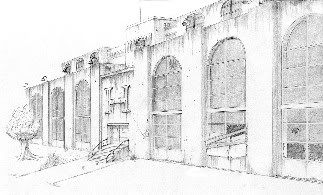 (Full screen concept can be seen here:
Dire.bhivedesign.com
A new map being worked on which we have only shown little concept for is the Hospital. The original concept was made by Overlord and this current concept was made by our new member Raptor. Raptor is a talented modeler and concept artist and we welcome him to the team with open arms. Please say hi to him in the forums and give him a warm welcome. The progress for the Hospital is great and is increasing each day and I cant wait to show the world what we are doing here.
Check back soon!