We have already released two critical updates for D.I.P.R.I.P. this week on Steam. They greatly improve server stability as well as fix some game play bugs.
We are planning to release a bigger update late next week containing a DM version of the City map, a few fixes to some of the other maps and additional gameplay fixes and improvements. Along with that update we will also be releasing a Linux version of the dedicated server.
On a separate note we are very proud to have been awarded with a Gold Award by SteamFriends.com!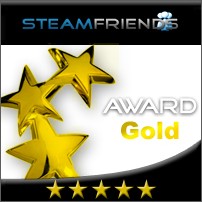 "We only award the Steamfriends Gold Award to games we believe to be of the highest calibre and DIPRIP is definitely one of those games. Not only does it feel well-polished, enjoyment-driven and full of oozing potential, but just talking to the creators for a few minutes about their mod, you can just tell that it has months of months of pure love for gaming hammered into it:" - SteamFriends.com
We really appreciate the feedback that we are receiving after the release, both positive and negative. Remember to let us know what you would like to see next in D.I.P.R.I.P. and leave your opinion on our forums.
The full update change log is:
Version 1.0.0.3
FIXED
- frequent server crash caused by a bug in the missile targeting system
- server crash caused by users trying to spawn a non existing vehicle type
- client crash caused by a bug in debris fade calculations
- nuke exploding in its spawn point after delivering the bomb
- announcer voice playing too loud when dropping or saving the uranium barrel
ADDED
- latency keeper as a server side option (enabled by default)
* diprip_latency_keeper 1 (enable/disable the latency keeper)
* diprip_latency_keeper_safe_time 30 (how much time a player has to be exceeding the diprip_max_ping value to be kicked from the server)
* diprip_max_ping 200 (maximum client allowed ping value)
Version 1.0.0.2
FIXED
- server crash caused by physics simulation memory override
- server crash caused by player death from a nuke explosion while holding the handbrake
- objective markers detaching from their designated positions in high lag situations
- bomb and uranium barrel sometimes disappearing in high lag situations
- hero achievement being not properly awarded
- destruction mode HUD corruption while connecting to a server in high lag situations
CHANGED
- changed hardcoded maxplayers limit to 32 (recommended value is 14)
ADDED
- server uranium run score limit option