D.I.P.R.I.P. available on Steam next week
We have the greatest plasure to announce that next week D.I.P.R.I.P. will become available on Steam. All of the registered Steam users who own any Source game will be able to play D.I.P.R.I.P. for free. All you need to do is to click the download button. From now on D.I.P.R.I.P. will be updated through the Steam automatic updates so you can be sure that more good stuff will follow shortly.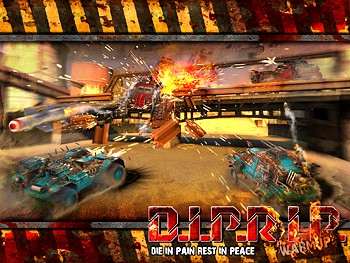 Prior to launch we are starting with closed beta tests and we will be notifying the testers who helped with the previous release. If you would like to join the testing team and get your hands on the new stuff please send us your application.
The new release includes so many improvements and additions that we've decided to name it DIPRIP:Warm Up as a tribute to the new team modes.
New features include:
- 3 completely new team game modes: bombing run, uranium run and team deatchmatch
- 2 completely new maps plus many improvements to the old ones
- 3 new teamplay versions of the old maps
- greatly improved steering
- a new system for flipping your car back with a single tap of a button (no more respawns)
- totally revamped particles, explosions and special effects
- achievements logged for your Steam account just like for Team Fortress 2