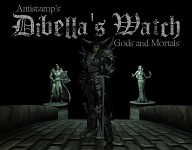 One Point O
I never thought I'd see this day, but here we are. Dibella's Watch is upgraded to One Point O, finally. The Main Storyline Quest is done and there are masses of other smaller quests around it as well; having the main storyline done was my criteria for upgrading it to 1.0. Pretty much every corner of the huge continent is now populated with forests, villages, events, enemies to fight and other interesting, fun stuff.
I set up a rather tight deadline some time ago. One Point O was to be ready, done and published some time during August, and I am proud to release this now on August 1st 2011. Following a deadline also meant that I had to do important decisions on what would be in the game and what would not. Among other things, I sacrificed things in the boring packaging department. This means that the mod is still load order sensitive (the .esm still needs to be loaded right after Oblivion.esm) and there are no BSA-files to make the file structure tidy and neat. Believe you me, I tried my hand at those things, but I always got glitches within the game that I couldn't get rid of, and I would never sacrifice the great, well-working and fun game experience of this mod for a neat file structure. No-no! I concentrated on the stuff I'm good at, and left the unimportant, boring file structure stuff to the side. Just follow the simple installation instructions and you'll be running the mod fine anyway.
Download
It has taken me eight months to get to this stage. I am very proud of what I have achieved. Every stone, every bush, every tree is hand-placed on this massive continent, all is hand-designed, and everything has a meaning and purpose. In the world of Oblivion mods, Dibella's Watch is unique, for seldom has anything as large, as complete and as playable been put together by one single creator. I scare myself, because I sometimes think about where I could have taken it, had I started it one year before I did. Oh well, we'll get to see that some day, when I start my next large Skyrim mod.
I stand by every inch of this mod, and I am proud of everything in it. This does not mean that it's perfect, unfortunately, nor does it mean it's really done. Keep sending me your feedback; what you like and what you don't, bug reports and so on. There is going to be patches and possible expansions with quests and other cool stuff, and I already have a few things in the works. I'll be right here modding and perfecting Dibella's Watch, at least until Skyrim comes along, so be sure to still keep updated. Right now I just need to rest from it for a while.
Version History
- The Main Storyline is done with the final chapters having been added. This advances the mod to Version One Point O. "The Siege of Wordham" and "The Battle of Grandoak Cross", "Hostage Crisis", "Commander of the Army", "Into Dro-Zharrn" and "Wedding Bells". The main story done was the criteria I set up for Version 1.0, so here we are.
- You can now become the Lord/Lady of Scarleyshire.
- Added the Crusaders quest "The Test".
- Another smaller quest added, "The Lost Adventurer".
- Masses of landscaping done as usual.
- Lady Wordham now does training and recharging of items.
- Added Trebuchet for the Siege of Wordham.
- Using more flower pots and vases by Tamira.
- Added a few paintings by Aisis.
- Created the Pirate stronghold of Cove in the south; interiors, exteriors and NPC's in place.
- Substantially many more enemies to fight have been added throughout the land.
- Created the Borkh Camp, a joint central camp between Woodlanders and Deadlanders.
- Updated the transport .esp. There's now transport to and from Imperial City and Port Constanze too.