+ Over 200 extra units
+ 43 Garrison units
+ 40 unit armies
+ Many different campaigns
+ Effects that look real
+ Fascinating AI
+ Realistic battle mechanics
---
= M

ythic gameplay experience!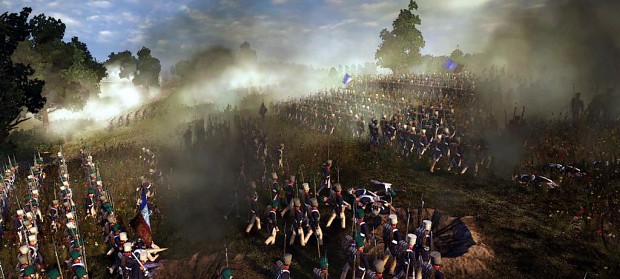 Version 2.6+ "Epic Edition" (8/9/2012)

Several new improvements that affect Battle AI positively for even greater and more challenging battles. DarthMod Napoleon has now 300% better Battle AI from vanilla = guaranteed. Those who still do not believe just try and see (especially in campaign battles).
Melee mechanics improvements (better reactions, more lively engagements).
Better animation mechanics, more realistic. (Less synchronised volleys, better sounds, less lag).
43 new Garrison units that make sieges far more interesting. No longer you will face only weak armed citizenry but instead you will have to battle against experienced Line infantry and trained Militia, according to town income. These troops are available for the human player too when he defends. (In previous version this was not implemented fully and caused bugs = you could not disband some units or after the battle they dissapeared. Now this very irritating bug is fixed).
Howitzers more accurate and effective.
Quicklime and Carcass more effective.
Many more projectile improvements. For example muskets are having even more realistic firing trajectories. You can feel how the musket is better at the hands of a trained soldier than an inexperienced militia. Enable the improved projectile trails to watch how deadly or unstable at the same time can be a musket barrage.
Squares more effective against cavalry.
Fortifications slightly less expensive as requested.
Musket sounds enriched with the magnificently recorded sounds of General Andy. You can find his standalone mod here: Twcenter.net (General Andy's Musket Sounds). DarthMod now uses possibly the best musket sound mix of the community. Read the credits for more info.
The 1X MP setting is now enabling normal vanilla unit size so you can freely change unit size or play DarthMod multiplayer without any issues.
Version 2.6 "Epic Edition" (14/8/2012)
Battle AI is greater than ever due to formations and other parameters adjustments. It will really give you a hard time winning it, especially when it has artillery and a good general.
Multiplayer with DarthMod enabled should now be fixed.
Now there is richer garrison (Militia and many types of Line infantry) and also it costs when in siege (so Human campers will not wait for the AI to attack all the time because they may risk bankruptcy). This simulates the cost of a siege for the defender.
Battle autocalc improved as requested.
Gun reload rates extreme re-balance for better battle realism and challenge.
Musketing morale impact is greater so that only the elite troops can stand under heavy fire long enough (or when they have a good officer around).
General projectile lethality enhanced.
Melee mechanics tweaked even better for more cinematic feel.
Artillery more devastating.
CAI better re-balance especially for France and Britain which should be more effective in the campaign map.
CAI recruitment better with more special and elite troops.
Fortifications have much more cost so that they are rare in the map.
CAI should be not so aggressive to minor nations and must be slightly more reasonable.
Diplomacy gift impact reduced (was requested).
Howitzer impact slightly more powerful.
Unit population cost nullified because in some campaigns caused problems (For example in Penninsula Campaign it made Towns too small and no more units could be built).
Trade ports can now build warships so that the CAI can build powerful navies. As a tradeport becomes upgraded it can build bigger ships and smaller ships become obsolete.
Improvements in effects (Musket muzzle flash much more realistic, Quicklime smoke effect more realistic, Water impact effects are now realistic and not tiny and gamey as in vanilla).
New Musket sounds much more realistic using sounds kindly offered by Shokh, the creator of ACW mod (American Civil War - The Blue and the Grey).
Extreme Naval Battle rebalance. Many changes to make the naval battles as realistic, challenging and beautiful as possible. For example you can now feel the mass and slow reaction time of a ship type and also there is simulation of how tides affect a ship's firing trajectory. The smaller ships shake a lot so they are not as effective in long range targeting as the bigger warships which remain more stationary in the water. But even for the bigger ships you notice this very realistic effect, as they shake after they take hits or they fire etc. so that you think you play a real naval battle.
Some minor Launcher fixes to provide more accurate log reports.
Projectile trails improved (Those you enable from the launcher).
---
Installation & troubleshooting

It is fully save game compatible with your previous DarthMod "Mythos Edition" or "Epic Edition".
It is required to uninstall the previous version and then install this new one.
Read the simple installation instructions
Useful info:
Always open the Steam client before you open the launcher
How to play Multiplayer with DarthMod Napoleon
Technical support
---