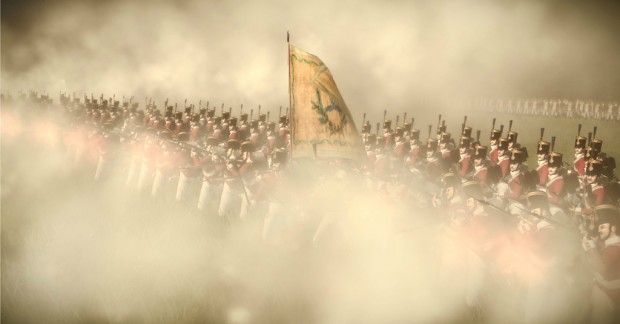 Version 2.4
Cannon & musket smoke became the most impressive you have ever seen... I never thought Napoleon engine was capable of these effects!
More dust from infantry/cavalry movement and with correct color (not white).
Howitzer impact smoke is now greyish/white and generally the howitzer effects are much more improved.
Carcass and Quicklime effects and damage improved.
Musket Muzzle fire effect improved a lot (it is like real ).
Projectile Damage from muskets and cannons lethality improved.
Melee mechanics much better.
Guns/Cannons have all a much more distinct character per type (accuracy/ballistics etc.).
Morale more crucial (2-3 good volleys crush the morale).
Less Fatigue Penalties for shooting procedures.
Improved the projectile trails to be better visually (Try them).
Improved formation system for a far more effective battle AI, especially in defense.
CAI should not declare wars so easily.
Launcher additions by husserlTW
* Added Italy and Netherlands campaigns (they replace Kingdom of Italy and Batavia Republic).
* Fixed a bug where emergent campaign file was remaining after disabling emergent campaign.
* Other minor launcher tweaks
* Added a start up log:
Now, there is a log created to help us solve your installation problems
If you have problems with launcher or/and game startup, please copy the log report found in data/DMN/dmn_log.txt in the post along with your question/problem. Since this report may be very long, it would be good to use the "code" tags.

Please share your opinions
@TWCENTER FORUM
Be a member of
DarthMod@Twitter
***EDITED 24/4/2012***
A new HotFix is uploaded with these additional changes:

Version 2.4+ HotFix
BAI finetune to create more proper musketlines.
Fire by rank reloads now a little faster.
Howitzer fragments more realistic trajectories.
CAI less passive from what it has been reported.
Lag issues that have been reported have been addressed:
Lag is created when you choose Ultra particles (in vanilla too when using ATI cards) or somehow the game preferences get messed.
Now the Darth effects have all the necessary in High Particle settings (no need to use Ultra) and to be sure you can delete the game preferences from the launcher with one click (File->Preferences script->Delete) to set them again with safety inside the game.
Get it from here: Twcenter.net