Darkest Hour December Press Release Part 2:
Welcome to the Final Darkest Hour Press Release of the Year!
MODDB Top 100:
It has been another hectic few weeks in the run up to Christmas for the developers over at Dark-Light Games. We do however have several very exciting updates to bring. First and foremost it was with great surprise that we found out that Darkest Hour (along with Mare Nostrum) had made the final 100 mods in the MODDB Mod of the Year Awards. We sincerely appreciate all your votes and ask that you continue voting at the link below.
Trailer:
The second piece of news this month is our new teaser trailer! Shot by myself (Aeneas2020) and directed and edited by Harvey this trailer provides some insight into what we have been so busy with over the last few months. This is only the beginning of what is to be a regular video spot for Darkest Hour, with short movies to show you how things are progressing as we grind onwards to release. I'll let you judge the trailer for yourselves
You can download the trailer at the links below:
www.darkesthourgame.com/research/Harvey/DarkestHourChristmasTrailer.rar
OR
Watch it on youtube or moddb here:
Closed Beta Test Clans:
We are also very pleased to announce our 5 Clan Beta Winners have been chosen.
M3A1 Grease Gun:
The latest weapon the be added to Darkest Hour is the M3A1 "Grease Gun". This compact SMG will be helping the US forces keep the Germans pinned down. The model was originally made by Silence 14 and donated to Darkest Hour some time ago before being finished off by Tman. The texture is by Aeneas2020.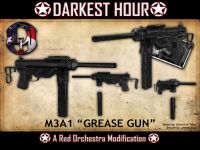 Finally:
Finally as always I have included some in game action shots from this weeks test sessions. I want to wish TWI and the RO community a Very Merry Christmas and a big Thank You from all those involved with Darkest Hour for a great year. Keep up the support and stay tuned for exciting updates in the New Year!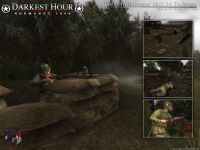 Until Next Time, Merry Christmas, BON NOËL & Frohe Weihnachten euch allen !
Aeneas2020