This post is a small DaggerXL update.
So the work on the DaggerXL geometry refactor is almost finished. The software renderer is also now fully integrated and selectable.
Here is a screenshot from Privateer's Hold using the software renderer (32-bit) – no HUD (click to see full size):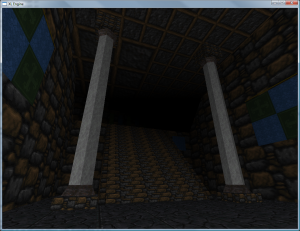 And another random dungeon:
Next up is rendering the flats/sprites again and putting the lighting back in. Then I can finally finish up the exteriors and interiors too.
The release will include the 32-bit software renderer (shown above) and the 8-bit software renderer as well as the option to play in 320×200 (stretched to the full window size with proper letter/pillar boxing to maintain aspect ratio). 320×200 will only be supported in software, no point in supporting that resolution with the OpenGL renderer now.