Hey Battlefield 2 fans and community!
This is CDNCommando co-leader of the Conflict Canada Mod. We are back after yet another lull in media updates. This time we have been working very hard to get our test server up and running. Now we can make sure that everything we show you works flawlessly online as well as singleplayer. We would like to give a big thanks to johndoom for donating the server to us and to Guedoe for helping us getting our mod formatted properly for server operation. Anyway lets get to the good stuff!
Weapons
First up is a model by Sarge. This is a model of the Timberwolf Candian Sniper Weapon. It will be given to the sniper class for the Canadian team. This weapon is comparable to the M24 do the bolt action firing mechanism. I'm sure all the snipers out there will have lots of fun with this awesome piece of hardware.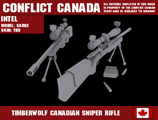 The second weapon to be shown today is the Mounted C6. The C6 was modeled a while ago by Klone. This is the gun that will be mounted to the Griffon helicopter that you may remember we showed last week. It is not the most accuarate gun out there but it is great at making people find cover.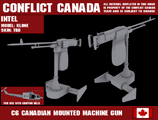 Vehicle
The following is a fantastic model donated by the former Canadian Forces Mod. This is the C2 leopard Tank It will be equipped with some heavy firepower that will surely make a dent in the battlefield. This type of tank is the standard Canadian tank that will be seen all around.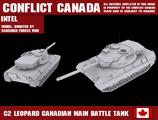 That concludes our media release number 4. People often ask if we have a build ready for release in the very near future and sadly our answer is no. We are not a group of people to release an half done mod to the public. I would like to add that we have a website up and running Here. Everyone at CC would like to encourage the community to come to our forums and chat it up with us.