Hey Battlefield 2 fans and community!
This is CDNCommando co-leader of the Conflict Canada Mod. After lots and lots of computer shut problems (one that literally caught on fire I might add) we are back with more intel. Let?s get right to it!
Weapons
First up is a model by Sarge. This is a model of the C8A2 Special Ops Weapon. It will be given to the spec ops class for the Canadian team. This weapon is comparable to the M4 and has similar accuracy and power. We will be sure to show everyone the skinned version when it is complete.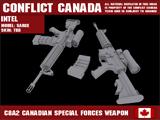 The second weapon to be shown today is the C9A1. The C9 was modeled by Sarge. It is comparable to the United States M249 SAW but the Canadian equivalent features an ELCAN scope. This weapon will be given to the Canadian support class. The skinned version will appear in a later release.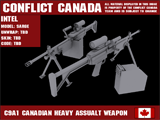 Vehicle
The following is a really nice model done by Klone. This is the Griffon helicopter. It will be equipped with C6 heavy machine guns on either side for door gunning. This type of helicopter is the main helicopter used by the Canadians and will appear often in our maps.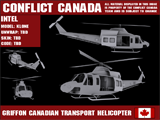 That concludes our media release number 3. We appreciate your reading this, I really hope you enjoyed all the content we have showed you today. We are having a lot of fun working with the Battlefield 2 engine. I would also like to add that we have a website up and running here. Everyone at CC would like to encourage the community to come to our forums and chat it up with us. We are always around and we will gladly answer questions and take suggestions. We also have many positions open still. These positions include:
-Coders
-Skinners
-Modellers
-Mappers
-Animators
Please note there are no nationality based qualifications. Anyway thanks again for your support and we would appreciate any feedback you may have.