Hello, everyone.
Today, I will be discussing the recent developments of Call of Chernobyl: Mutants Uprising. To start, we now have a trailer to showcase a few of the classes that will be included in this mod. To elaborate, this trailer includes the Poltergeist, the Pseudogiant and the Zombified Stalker.
The trailer below can also be viewed via the following link: www.youtube.com
This trailer shows how a few of the featured mutant classes work, but this is only expressed to a minor degree. However, more developments are yet to come.
For now, I will address a few details that I am currently working on in this mod.
The Poltergeist class can use throwable objects to get the upper hand on their foes. These consist of the items that are included in their inventory upon starting a new game. From wooden crates to metal tables, these items will almost always kill human enemies on impact. This also prevents any throwable objects from being wasted as it would only take (at a minimum) one throwable object to kill a stalker on impact. I also have a few additional points to address about the Poltergeist class:
- The Poltergeist will always spawn with throwable objects in their inventory upon starting a new game.
- The Poltergeist will not be invisible to other stalkers, despite their supernatural appearance.
- Throwable objects are renewable and they can be acquired from dead mutants. This mechanic was implemented since the player cannot pick up props from their surroundings and use them in this manner. This also allows the Poltergeist class to be used indefinitely, though I am currently working on making this method viable.
- All throwable objects will phase out of existence in a non-lethal explosion soon after being thrown. This will not kill anyone or anything, with the exception of some smaller animals like rats and dogs.
- All throwable objects are classified as grenades by the game's files, but I have removed the voices from any NPC characters that imply that the player is throwing a grenade when using any throwable objects during combat as to not break the immersion.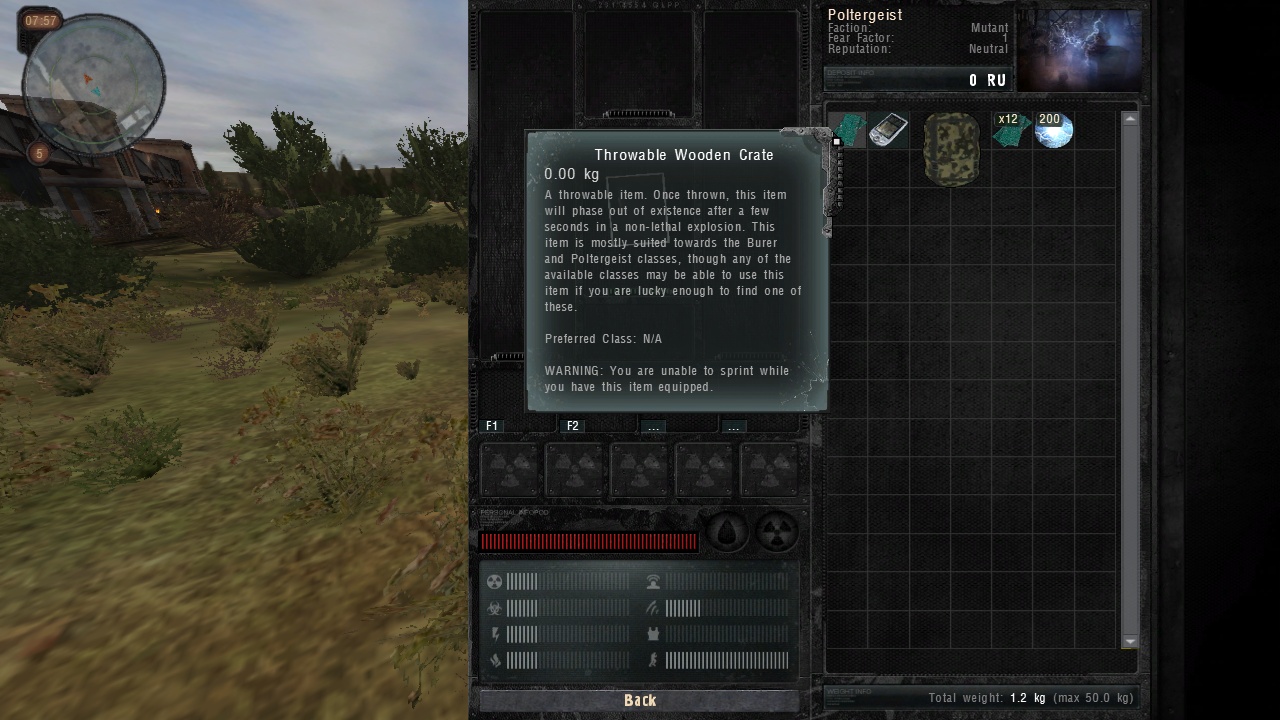 The Pseudogiant class deals with an astronomical degree of strength and favours the art of endurance. While not invincible, the Pseudogiant has a new ability called "Pseudo-rush" can enable the Pseudogiant to go on a long rampage while not needing to worry about taking damage. Currently, this ability comes in the form of a consumable item, and this item will last for up to one real life hour. However, I may implement different variants of this to balance things out a bit. I also have a few other things to discuss about the Pseudogiant class:
- The Pseudogiant will also have the Shockwave ability, equivalent to that of the Pseudogiant's stomp attack.
- The player must activate Pseudo-rush to take advantage of the Pseudogiant's increased damage resistance. This would balance out that feeling between being a walking tank and having super strength for those players who may not wish to feel like a walking tank while using this class (which does sound rather odd, but moving on).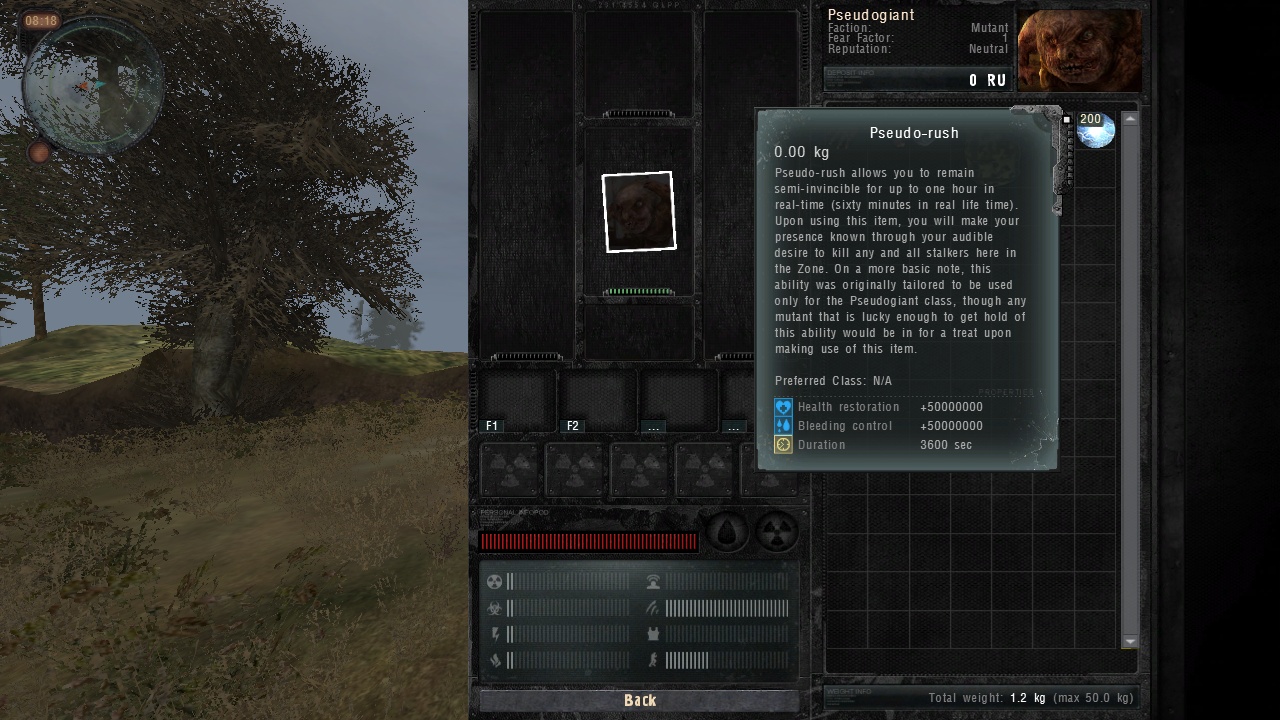 Upon choosing the Zombified Stalker class, the player will spawn with a variety of ranged weapons, along with a knife for when ammunition supplies are low. These weapons will only be the original weapons from the S.T.A.L.K.E.R. series since I wish to keep this mod as lore-friendly as possible, but that doesn't stop me from putting a nice little secret in this mod for you all. Before concluding this article, I will address a few points that are relevant to the Zombified Stalker class:
- All weapon names have been changed to their real-life counterparts to provide an element of realism while still retaining a lore-friendly approach to the S.T.A.L.K.E.R. series.
- The Zombified Stalker's weapons can be used indefinitely by looting ammunition from the bodies of dead stalkers.
- The Zombified Stalker class comes with it's own animated skins to make you look like a real Zombified Stalker.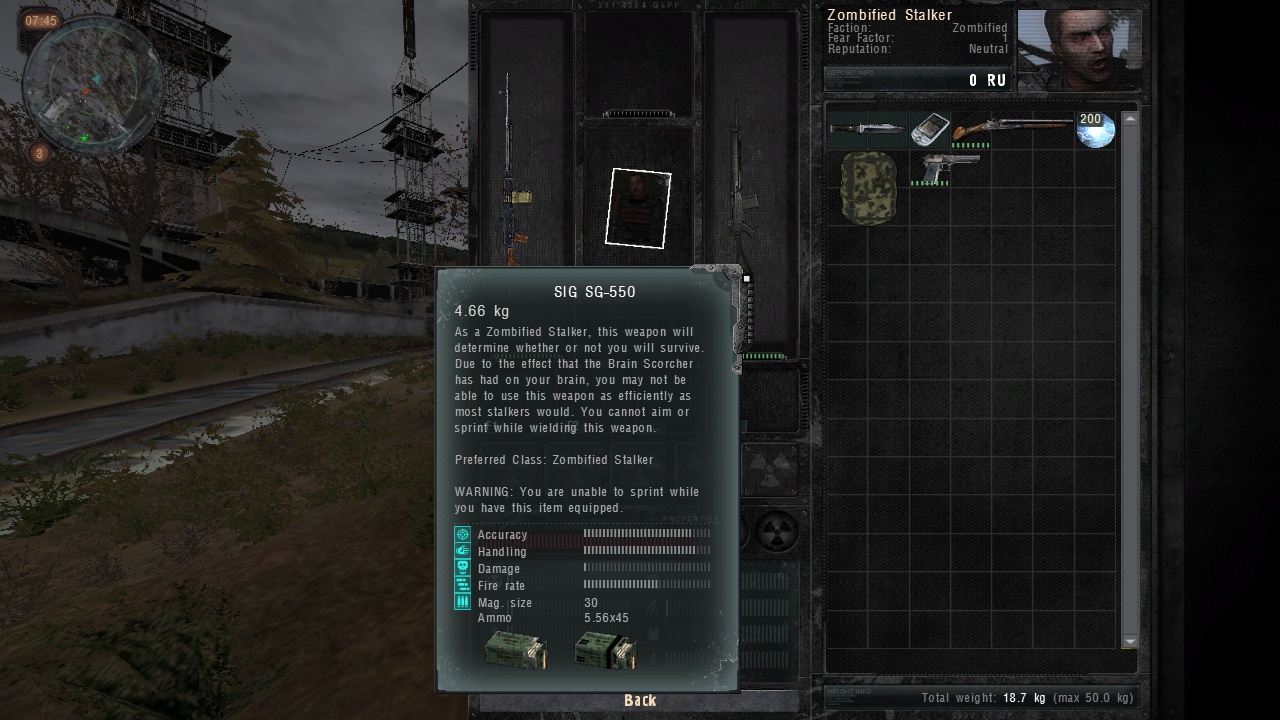 There will be more items in the inventory of every class than what is shown in the screenshots above. The screenshots above do not represent the spawn loadouts of each class in terms of item quantity.
Another minor detail that I am working on is the dynamic news mechanic; the text that pops up on the screen when in certain situations will be altered for a few reasons, one of which is relative to this mod's class system. The mutant class system for this mod is built upon the vanilla faction selection system for Call of Chernobyl, and so the dynamic news text is being altered as to not provide the incorrect text at any point while using this mod. For instance, if you are playing as a Bloodsucker, we wouldn't want the dynamic news updates to say "we are being attacked by a Loner", or anything of that nature.
To finish off, I would like to say that I am very pleased with the recent developments of this mod and I am very grateful for all of your continued support. Have yourselves a wonderful day and I hope to catch you all in my next article.
Kind regards, Jacob.