Greetings, everyone.
I hope everyone is well on this fine day. I certainly am, mainly due to the recent developments that I have made with this mod. To start off, I would like to thank each and every one of you for your suggestions and continued support. I had never thought that this mod would catch the attention of so many of you, but your encouragement certainly means the world to me and it has certainly played it's part in helping me proceed further with developing this mod.
Today, I have a special treat for you all. I am in the process of putting together the Bloodsucker class. To elaborate, the Bloodsucker has certainly had it's highs and lows in terms of development. From implementing it's "cloak" ability to improving it's visual capabilities, the Bloodsucker can prove to be a very dangerous opponent on the battlefield.
The Bloodsucker also comes equipped with a bite attack that plays a matching sound when activated. This will allow you to suck the blood from your enemies. This attack can be activated at any time, providing you have a few Mutant Action Points equipped. If you are unfamiliar with what these points do, or if you've consumed too much Cossack's Vodka since the last article, please refer to the previous article for more information on these items.
As stated previously, the Bloodsucker's Bite is a powerful attack that can be used at any time, but it's only effective when you are within close proximity of your target. Try sneaking around them, gaining an edge on your target, and then closing in for the kill. That would certainly make you feel like a force to be reckoned with in the eyes of most stalkers.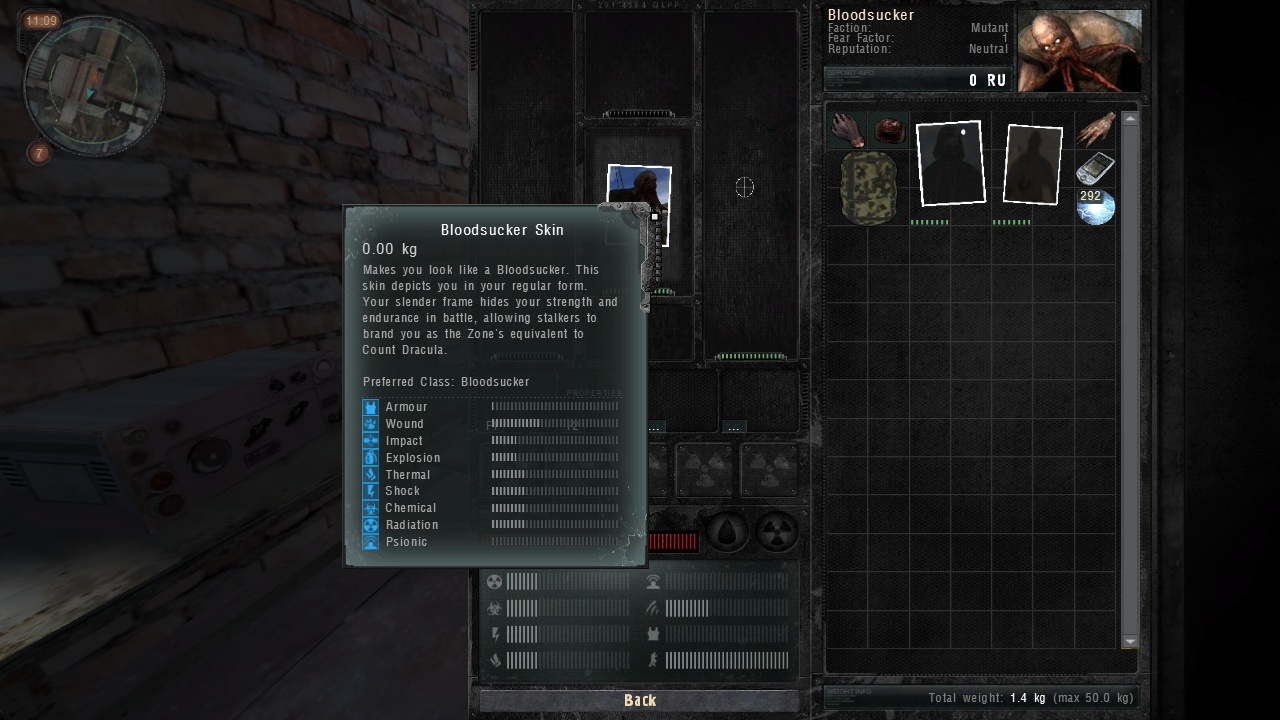 Speaking of stalkers, your enemies will often be killed rather quickly by your attacks. This has been implemented into this mod to balance things out a bit; you can't shoot at your enemies with a Pseudogiant's Stomp, can you? Or perhaps you can? Never mind. Let's move on.
Coupled with it's deadly bite attack, the Bloodsucker can also use their Bloodsucker Vision to detect any enemies in the vicinity. Similar to that of the Binoculars that were featured in all three S.T.A.L.K.E.R. games, this ability detects enemies by highlighting them for the player to see. The player could then make their decision on whether they would close in for the kill or avoid these enemies like the plague.
The Bloodsucker Vision ability would not have any sounds included; the same would apply to any and all melee attacks that can be used in this mod as to not break the silence during those times where stealth is of optimal importance. Also, the Bloodsucker Bite can allow the player to slightly zoom the camera in on their target at close range, almost as if they were "aiming" at them to line up the perfect bite.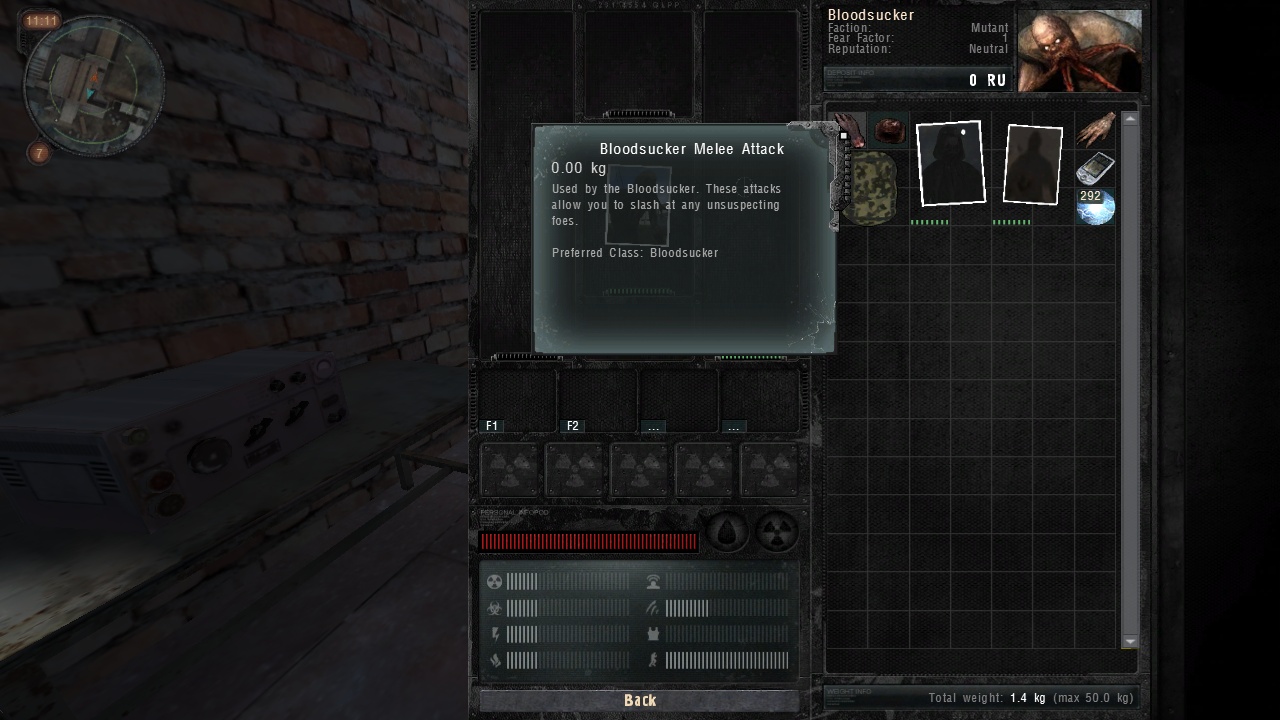 The Sleeping Bag was also included in the player's inventory by default to allow them to pass the time via sleeping. I did try to edit a few of the .ltx files to try to get the Sleeping Bag to work without having it placed on the ground, though altering this item in this way somehow stops it from working altogether. Despite this, I am pleased to announce that players will be able to sleep when they want and where they want (within reason) while playing as a mutant with this mod. The skins that have also been included in the player's inventory may be elaborated upon in a later article. For now, I allow you all to provide your own thoughts and speculation on these.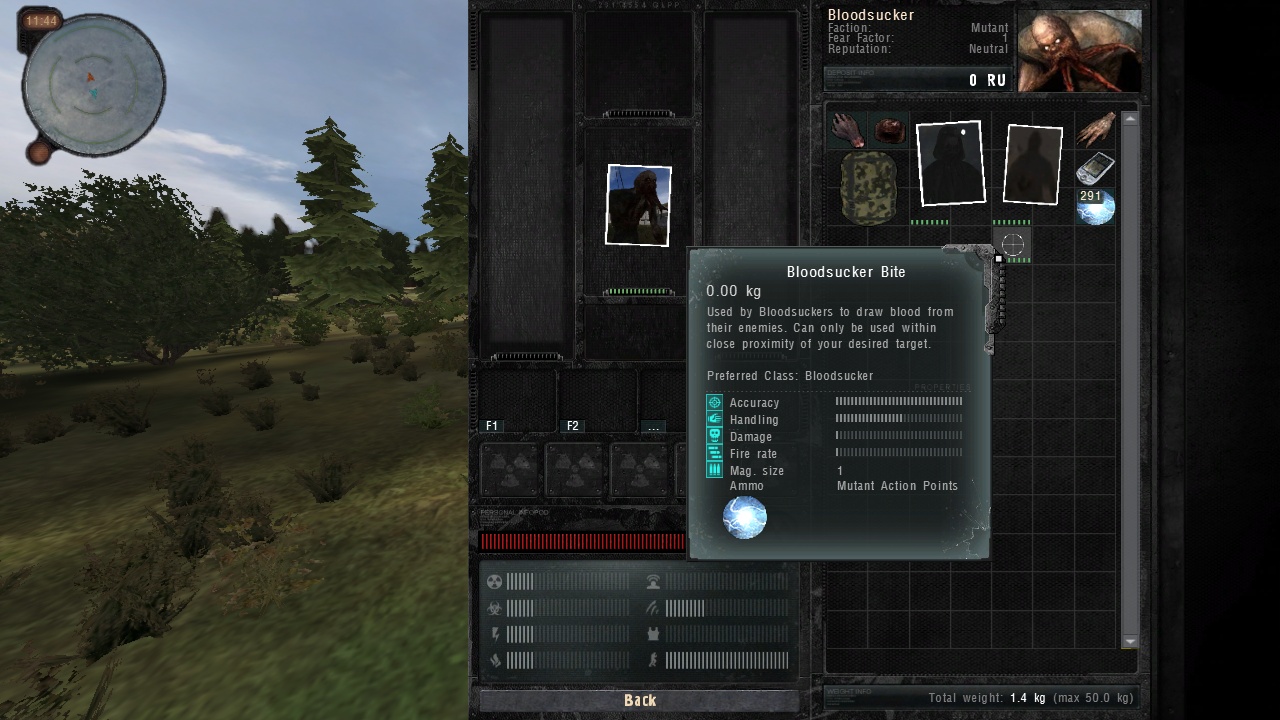 From here, I am currently editing a few of the .xml files to make their included text more compelling. Once again, I would like to thank each and every one of you for all of your suggestions and support, and I wish you all well. Just remember to keep up... or become Bloodsucker food!
Kind regards, Jacob.