Hello, again.
I have come to share some more information regarding my recently announced mod, Call of Chernobyl: Mutants Uprising. Today, I will be speaking about how you can play with the featured classes indefinitely, despite your ongoing inability to use your enemies' weapons. I will also be hinting at what may be included in the inventory of one particular class: the Zombie.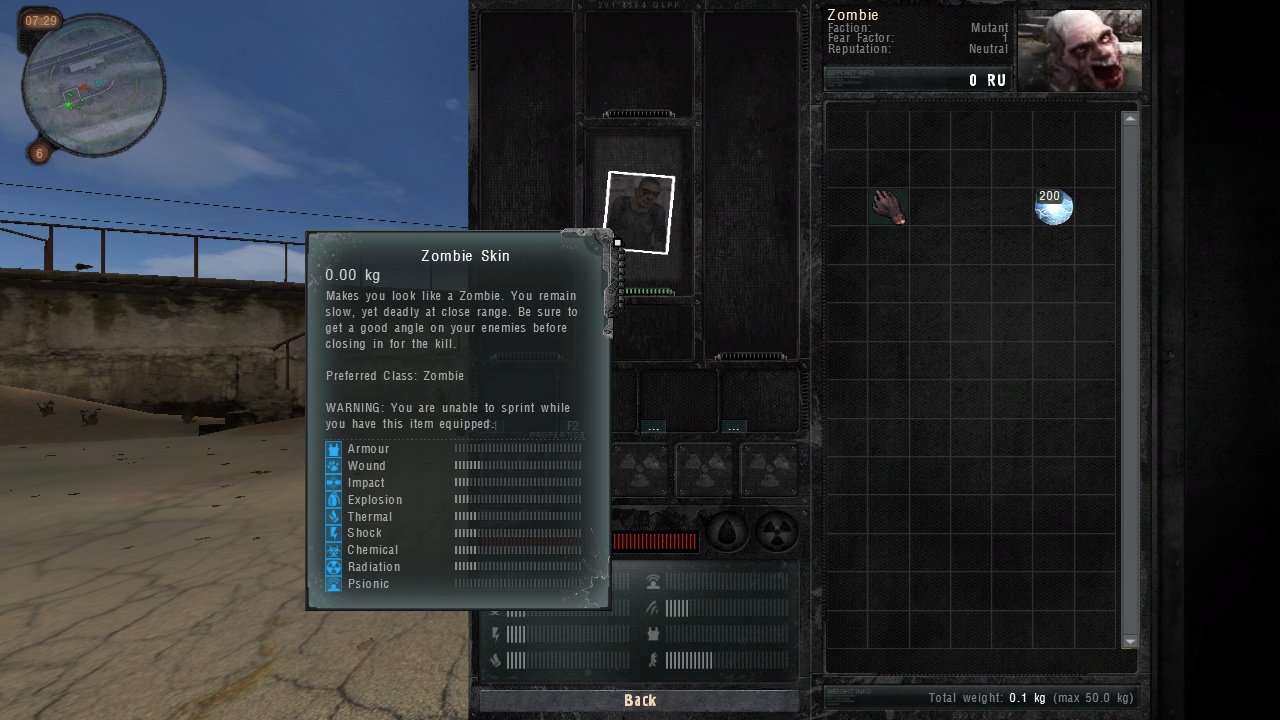 The screenshot above shows me using the Zombie class with a few items in my inventory. The first item, also highlighted above, is the Zombie Skin. Much alike to this class, each and every class that will be featured in this mod will include their own skins. Said skins will also allow the player to take on the savage appearance of whatever class they may be playing with at that moment.
Furthermore, I will also touch on one of the included weapons in this mod; one of these is the Zombie Melee Attack. This item consists of only the Zombie's fist. This will simply allow you to hack away at any enemies in your path. I would also like to add that many of the items in this mod will have their own preferred class. For instance, if I had the Bloodsucker's Bite, this would simply be labelled with "Preferred Class: Bloodsucker". In the case that an item does not have a preferred class, or if it was designed to be used with multiple classes, it would simply be labelled with "Preferred Class: N/A". In the screenshots above and below this paragraph, it would appear that both of these items have been tailored specifically for the Zombie class. Said items will also be available soon after creating your character.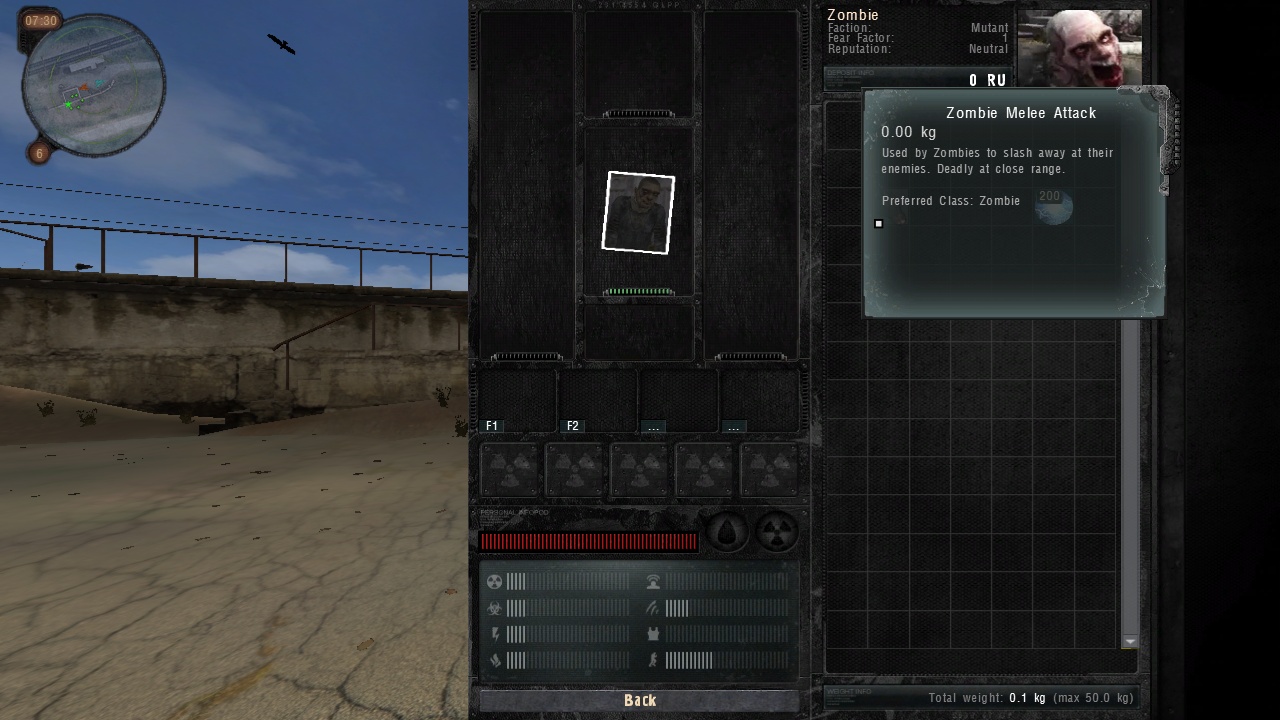 The final aspect of this mod that I would like to touch on in this post would be the new mechanic that I am in the process of adding; a new points system. To elaborate, this mod introduces Mutant Action Points (also known as MAP's). These points will allow you to make use of certain abilities that come with the other mutant classes by default (i.e. the Bloodsucker Bite, Controller's Psi Attack, etc.). These can be shown in my character's inventory in the screenshot below.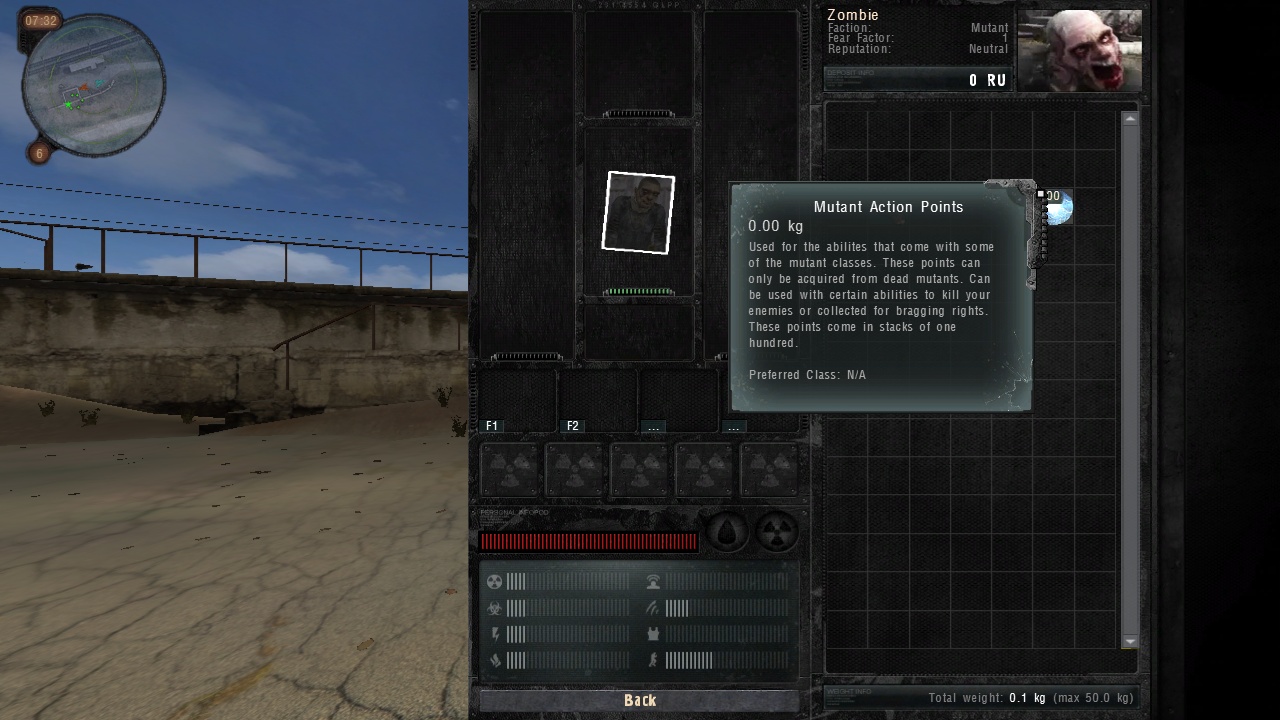 As touched on previously, these points do not have a preferred class since they are designed to be used with most of the mutant classes (hence the "N/A").
These points will be available to the player soon after they create their character and these points can also be liberated from dead mutants; the latter can challenge the player on a moral level. Would they wait for their mutant friends to die and then loot their bodies, or would they take on a more savage approach and kill their fellow mutants to reap the benefits? That would be your choice to make.
Until then, I will be hoping to provide further updates in the future regarding the development of this mod. I will catch you all in the next update.
Kind regards, Jacob.