#2 - Sherman
It is time again. Since our recent news which announced our changeover to the CryEngine 2 many things happened. That's what this news is about.
Hello CryEngine 2
We as developers of the Brick It Mod wondered how the Community would react. Needless to say, we disappointed some users, but most of the feedback we got was positive feedback.
New forums
We are happy to announce that our old forum is no more in service. Our new "home" is kindly sponsered by Flüstertüte (www.warumdarum.de). By use of this forum we increase our cooperation with other mods. Beside Brick It and our "old friend" GAMEOVER(Crysis Modifikation) the forums now contains the well known modification Operation Peacekeeper (Battlefield 2 modification) and Battlegroup Frontlines (Battlefield 2 modification). This cooperation will help all modteams. You can find the forum at Forum.opkmod.com. By using the following URL you can directly open the Brick It area: --> BrickIt forums<--
Support for our team
For a few days mrmoor is member of our team. Till now he worked on the mod "Cry of the Bricks" for Crysis, but decided to fully join the Brick It team. We are happy to welcome mrmoor in our ranks. urthermore Thomy helps us with translations of news, website and other texts. Last but not least Black Rainbow and aNoN joined the beta team.
Search for a server
We are looking for a Crysis server for our beta tests. Only on a server we can really test Brick It in order to make it releasable one day. So if someone out there has a little test server for us it would be nice. I am sure we can thank the one in any kind(but not with money). Just contact us in our forums.
Attention Tanks!
Ok, enough talked for today. For the first time a tank was spotted in Brick It. But not just a tank, now the famous sherman. The model is made by busch and the renders are made by StarForce.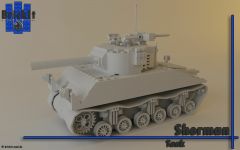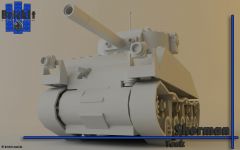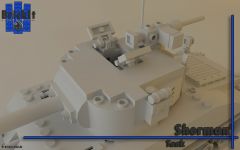 Feedback, feedback and again feedback!
Beside the newssites, the forums are the link to you, the Community. We ask you to use them. Give us your ideas, tell us what you dislike or make us compliments. Whatever it is, your feedback is important to us. We are open for ideas and give you the possibility to increase the mod. Register and discuss with us
Support
We are still looking for support in all sectors. Doesn't matter if you are a modeler, coder or skinner or if you have completely different abilities. We don't hurt you.
Time to say good bye for now. We are looking forward to your comments and your visit in the forums.
Your Brick It team.
Related Links:
-Brick It Homepage
-Vehicle Gallery
-Forum