As promised, here is the latter part of our December media release. Sadly for those who thought the month of multiple updates (aka hell for BMS) was over: is isn't. We're going to celebrate our birthday on January 1st, 2006 where media that isn't quite ready for this update will be released. We revealed the majority of what we wanted to say in our last update, so we'll skip quickly to the focus of this update, media.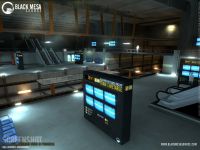 This update we are showing off a few stills from the 'Black Mesa Inbound' chapter, the opening tram ride of the original Half-Life. With level design by RabidMonkey, 2D art by hazardous! and Laz', and modeling talent from Sanada, Brodix and NetWarriorDan. Inbound has truly been a collaborative team effort. For those who remember this chapter, it was meant to present the player with a 'wow' factor, so its true meaning and value will only be realized through traveling the world itself, but trust us, the 'wow' is very much still there. We're sure many will note areas that are 'unrecognizable' to fans of the original, so we are looking for comments from the community. We greatly value your input on the direction we have taken on some chapters.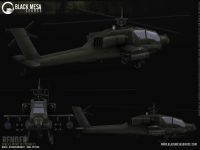 In the modeling section we have the U.S. Marine Apache, created by retardedmonkey and skinned by Spitfire. Retardedmonkey has been with us for sometime now and has already created many other vehicles, including the Marine LAV, Transport Osprey, M1A2 Abrams tank and he is presently developing the Marine HMMVW. Spitfire has also been hard at work skinning other models such as the heavy turret and soon to be Marine Sentry.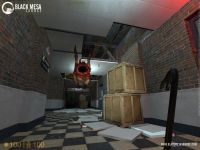 To wrap up the visual department, we have a single in-game shot. Showing off the perception of the player in the chapter dubbed 'Office Complex'. Crowbar in hand and headcrab on the horizon: straight from BMS 0.0.5 (alpha-5). Also in this shot you'll notice our custom HUD already implemented and functioning.
Moving to audio, we have brought together two preview-tracks from our talented Plink. The first demo piece, dubbed 'On A Rail', can be heard via our web site and runs for almost a minute. The second is from the chapter 'We've Got Hostiles' and runs for about ¾ of a minute. Plink now brings the total number of completed music tracks to six, with several other tracks currently in mid-development.
In addition to all this, HLFallout.net has won an exclusive BMS screenshot of Black Mesa Inbound for being 'fast and first' with our media and news updates. Best wishes to them and head over there to find the exclusive media shot.
Finally, we would like to thank everyone who came out and supported us on the ModDB top sites listing, the 'Mods of 2005' ModDB Golden Spanner Awards so far and those who came out to the radio interview last night. A transcript will be up in the following days as well as a download to the audio file. On that final note we'll wish everyone a Merry Christmas and leave you with the media.
-BM Source Development Team