We haven't had any updates for a while – But we've still been hard at work as of late. Recent restructuring within the team has resulted in some new additions to the team's collective of talented members, and as such, I'd like to use part of this announcement to welcome the new team members aboard. Joining us are Laz, Limper and Raminator, who are adding their talents in the departments of textures and skins, modeling, and level design respectively. Already they are hard at work on new areas of development within Black Mesa: Source. If you see them around on the forums or IRC, make sure to give them a welcome!
Additionally we would like to officially announce our new forum shift. We have recently shifted to our own, IPB-based board system, complemented by our own forum skin courtesy of Kester, Orcone and DKR1138 of the development team and forum fame. A new website is also under development to meet the expanding requirements for our modification page, as well as to accent the forum skin. The existing site has been updated to include some new, custom music from our soundtrack and some new sounds, both by our talented sound artist Joel, so make sure to stop by and see some updates to what ModDB named the 'third best website' in the entire modification community last year. On another website-related note, you'll notice that some of our media images have been taken down. This is because they no longer reflect the quality of our final version. Also, the HTML website has been taken down temporarily due to some maintenance issues. It should be making a return shortly!
Following the loss of some of our developers, we are looking for some new talent to fill in spots on the development team – At the moment, we are currently hiring individuals talented in the departments of level design and skinning/texture art. For more information on these positions, please have a look at the jobs section of the Black Mesa: Source website.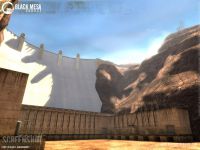 We conclude this release with a screenshot! This week's media includes another Surface Tension shot, but this time, rendered with High Dynamic Range as is used in Lost Coast. Various levels from the modification are undergoing compiles with both High Dynamic and Low Dynamic range in order to determine what looks and plays the best. In the end, the player will have the option to play through Black Mesa: Source with or without HDR rendering.
Finally, if you think Black Mesa: Source is the mod you think should be 'Mod of the Year', vote for it! You can visit our Mod Database entry by clicking here to cast your vote. You'll need to be registered and logged into ModDB for your vote to count more, and sometimes at all, so please support them and create an account if you don't have one already! Also, account or no account, please support Black Mesa: Source in the ModDB topsite listing by clicking here. Your vote counts once per day.
Stay tuned, for a second media release is on its way for the end of December.