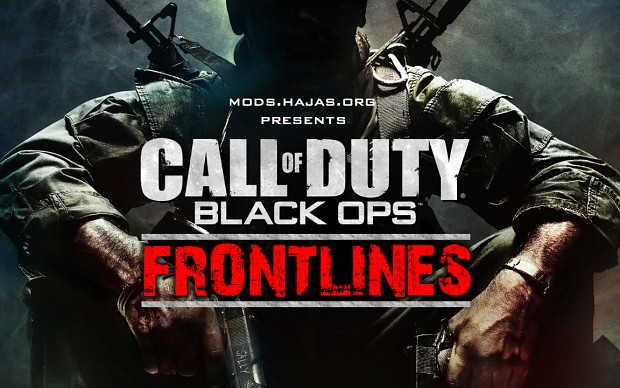 To anyone that saw the Definitive Version promo video (below) of COD4 Frontlines R3L04D saw a teaser in the end about the Frontlines Coop Missions.
Well, this day has arrived for Black Frontlines! :P
Question: But what exactly is Frontlines Coop Missions?
When is enable will change in real time all team based gametypes (7 for now) to act like a Coop Mission against bots, to you with your friends play cooperatively for the objectives of each Mission. Each Mission will be on the screen all the time to remember what your team must do to complete that exact mission.
Question: But this is not just the same gametypes with Human X Bots teams? Sounds easy!
No, they're NOT the same gametypes aside the main idea remains the same! Here the differences:
1. Your team only have ONE LIFE each, while the enemy have respawn.

2. The enemy like almost time in real life don't know your objective, so they will patrol the entire map searching for threats (your team) and you must decide when it's the best time for a kill, or for a silent kill, or to simply let them pass since they didn't know about your presence yet. Remembering they can CALL for help if you give them time to that and also that heavy weapons attracts the enemy by the loud sound.

3. The objetives aren't exactly the same

4. Your team (by default config) have 3 tries to complete your mission, so if they win 3 times you lost then next map is loaded. Of course you can do a fast_restart how many times you want to keep in that Mission until you complete it as you wish.

5. Timelimit it's 20 mins by default.

6. The number of enemies will change relative of the number of players online in the scale of 3 bots to each human.
Question: So, which are theses objectives?
Team Deathmatch (Coop Mission)
Your squad must survive for 20mins the attacks of the enemy team. You must keep your squad in constant movement in the area, or they will spot you and kill you (Anti-Camping)
Domination (Coop Mission)
Your squad must control all areas (flags) of the map, after that the enemy will lost the respawn, so you must eliminate all of them to complete your Mission. But if you lost any flag in this meantime, they will recover the respawn and counter-attack your team.
Capture the Flag (Coop Mission)
Your Squad must protect your own Flag and stole the Enemy's Flag and bring back to your own flag without have lost it. If an Enemy get your Flag, you will need to go after him to recover, which is hard to do it without respawn.
Search & Destroy (Coop Mission)
Your team must destroy one of the targets and at least keep one man alive to confirm the target was really destroyed.
Demolition (Coop Mission)
Your team must destroy BOTH targets and at least keep one man alive to confirm the targets were really destroyed.
Sabotage (Coop Mission)
Find and get the bomb from the Enemy and destroy the target and at least keep one man alive to confirm the target was really destroyed. Remember that the enemy can runaway with the bomb and you will need to find him first, what will cause the lost of more men.
Headquarters (Coop Mission)
Your squad must locate, capture and defend at least 3 headquarters to stole 180 units of data from the Enemy (180 points). Depending of how much time your team will hold a HQ, maybe you will need more than 3 HQs to complete your task. But usually 3 is enough. A member of your squad must survive in the end to recover the data.
---
That's it for now! I'm planning add Alarm sounds when the enemy spot your squad on the mission, and also retreat options after complete all objectives, your squad must escape alive. But this is for the next releases!
Of course, you can play Frontlines Coop Missions with ALL maps (all DLCs inclued!) and with or without the Help Mode, which your squad can save each other (without the need of be a medic) and no one dies, simply stay wounded until the end of the Mission or a friend save you. (Like playing Zombies)
This version is already online at our 3 servers, in US, BR and our brand new server in Europe localized in UK.