Rocky Mountains
For the Bf2: Arctic Warfare mod
So, today 'm finally gonna show you the basic layout of the first map for our mod, called (guess it ;) )
Rocky Mountains.
First I want to show you a pic, how the basic layout looks like: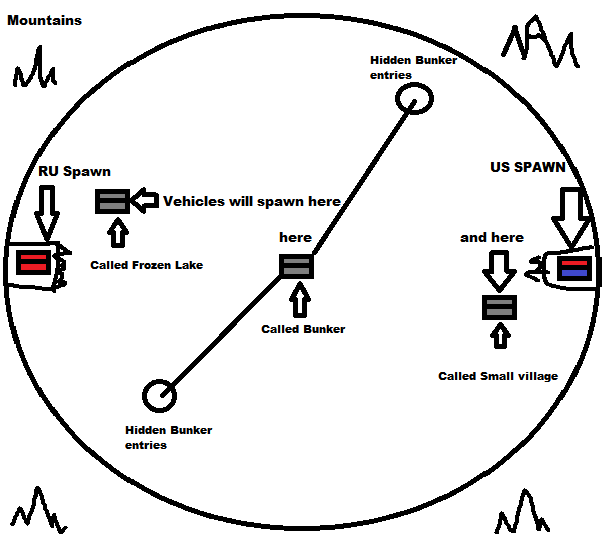 The main idea of this map was, that the contrahents spawn on the peak of a mountain, and battle themselve in a giant caynon. This idea got optimized more and more, and what we have today is:
There is a broken bridge on both sites, and both contrahents have to jump done into the caynon.
The mostly fighted part in this map will be the bunker. It will be underground, and you can access him through the main building. We thought that it'd be boring and annoying, if you can only enter
the bunker through the main building. So we decided to make 2 "hidden" entries, where you can start an ambush onto the contrahents. You could easily holding them up, through lying some clay-mores on the ground. They were annoying and overpovered in the original BF2, so we will give every sniper only 1! claymore. Also, we will supress the heavy grenade spam, which made us (and others too) ragequit.
So we'll give everybody only 2 grenades.
But back to the map.
The other checkpoint on the russian site will be a lake. We will make several covers for ambushing, and for a good cover too.
The 2nd checkpoint on the US site, will be a small village, and I think you can imagine, that there will be enough cover ;)
That are our main thoughs. More details will be released later, when we get closer to the release :D
If you have any suggestions for the gameplay, details, the mod or whatever, please write it in the commantarys.
Dementium4ever