I've mentioned before that each faction has several special units available on each map in addition to the four core classes. The stock Battlefront II has a similar setup, but the special units in Battlefront Chronicles should have a bit more variety. These special units can combine attributes of the core classes or fulfill their own unique roles on the battlefield. Current plans call for 4-5 special units for each faction, with 2 available on each map. Read on for details on the first few that I have completed!
ARC Trooper: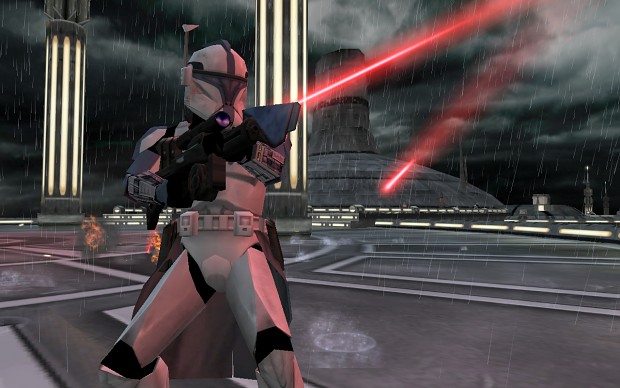 Ability: Stamina (+50% to energy bar)
Primary Weapon: WESTAR-M5 Blaster Rifle
Backup Weapon: DC-17 Hand Blaster
Secondary Weapons: EMP Grenades (x2), Concussion Grenades (x2)
The Republic ARC Trooper is a jack-of-all-trades. The ARC Trooper's signature WESTAR-M5 Blaster Rifle delivers powerful, accurate 3-round bursts of fire against enemy infantry. EMP Grenades are capable of taking down droids while causing minimal damage to living units, and Concussion Grenades allow the ARC Trooper to stand its ground against heavy vehicles.

MagnaGuard: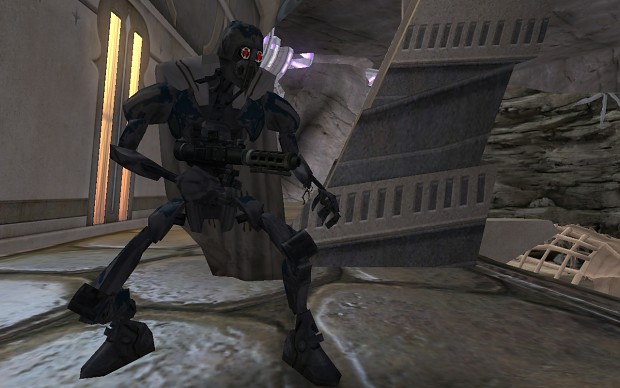 Ability: Stamina (+50% to energy bar)
Primary Weapon: Bulldog RLR
Backup Weapon: DT-57 Heavy Blaster Pistol
Secondary Weapons: Neurotoxin (x1), Sticky Grenades (x2)
The MagnaGuards are the elite units of the CIS, best known for their role as the personal bodyguards of General Grievous. In Battlefront Chroincles, the MagnaGuard carries a variety of unusual weapons. The Bulldog RLR functions much as it does in the stock game: as a pistol-sized rocket launcher (click here for a screenshot of the rather ridiculous contraption). The same goes for the Neurotoxin. The MagnaGuard's Sticky Grenades allow the unit to terrorize enemy infantry - the grenades stick to anything they touch (including clone troopers!) and release a small, but deadly, explosion.

Bothan Spy: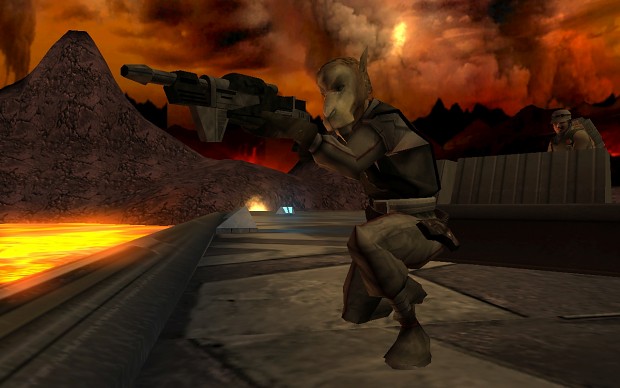 Ability: Reconnaissance
Primary Weapon: DXR-6 Disruptor Rifle
Backup Weapon: Invisibility
Secondary Weapons: Detpacks (x3), Combat Knife
The Bothan Spy is somewhat similar to its stock version, but has some new weapons. The DXR-6 Disruptor Rifle is a powerful sniper rifle that can be charged up to increase its damage. At full charge, the bolt is capable of totally disintegrating its victim. When the Bothan Spy is forced to engage in close-quarters combat, the combat knife can provide a way out; it is particularly deadly when used in conjunction with the unit's invisibility cloak.

Storm Commando: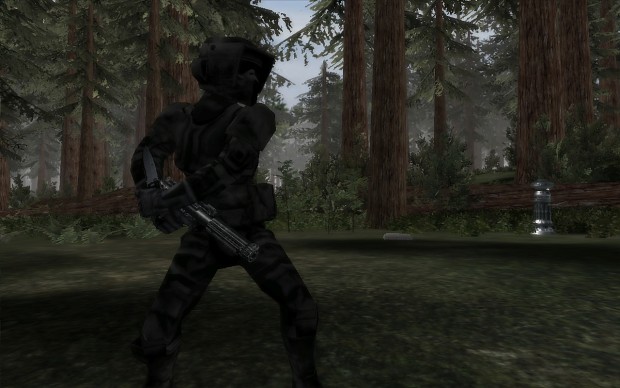 Ability: Stamina (+50% to energy bar)
Primary Weapon: E-11 Blaster Carbine
Backup Weapon: Scout Trooper Pistol
Secondary Weapons: Time Bombs (x3), Combat Knife
The Storm Commandos are the special forces of the Imperial Stormtrooper Corps. The E-11 Blaster Carbine is a light burst-fire variant of the standard E-11 Blaster Rifle. Storm Commandos can sneak behind enemy lines and disrupt vehicles and installations with well-placed time bombs. They can also surprise enemies in close-quarters combat with their combat knives.
I'll be posting updates on more special units in the future. In other news, I've begun work on another map for a planet featured in Episode III (hint: it was the setting for one of the large ground battles seen in the movie). Thanks for reading!