It's been a while since I've shown any new maps, but here I am to change that with...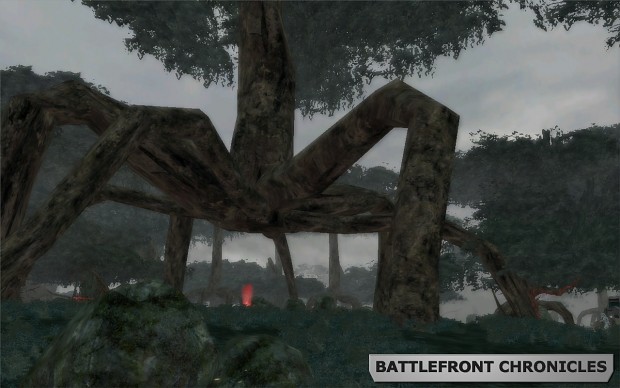 ...Baroonda, the most recent addition to the mod. This world should be familiar to any of you who have played Episode I: Racer, a classic N64 game. I have very fond memories of Racer. It was my first Star Wars video game - in fact, it was my first video game period - and I loved every second that I played it.
Baroonda is one of my favorite worlds in the Star Wars universe. It has a wide variety of environments, ranging from beaches to volcanoes to swamps, all with mysterious ruins scattered about. The planet was a prominent location in Racer, but it has remained totally obscure since then. I've wanted to have a Baroonda map for Battlefront II ever since I began modding about five years ago. This particular map was actually designed about two years ago as a stand-alone project, and it was then passed on to Sky_216 for his Last Days mod. A few months ago, though, Sky passed it back to me so I could plug it into Battlefront Chronicles.
The map is set in a swampy area. There is lots of vegetation and shallow water, with some ancient ruins buried beneath the vegetation. The map is medium in size. Most of the action takes place on foot, but there are a few light vehicles available for each side. Of special note, the Galactic Civil War era features a new vehicle for the Empire, the AT-PT. The AT-PT was modeled and animated by fellow modder FragMe! (also the creator of the AT-AP). Baroonda is definitely one of my favorite maps out of everything I've created. It has a fun environment, it's action packed, and it has a lot of nostalgic value for me. Enjoy the screenshots below!