Raaah! Variation good! Guns good!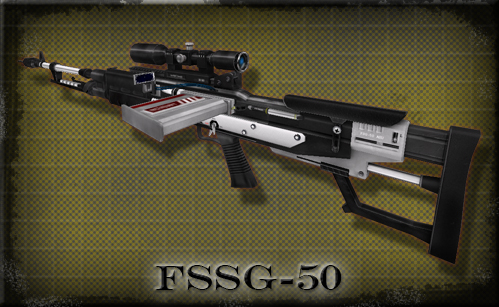 First up is the FSSG-50 Marksman Rifle! This is basically an FG50 improved in every way except magazine size. It can fire in both semi and automatic modes, however automatic is only really useful for scaring birds and missing. This gun is perfect for those who want maximum power and to fire more than the X83's 4-shots, but who absolutely hate waiting for a bolt-action rifle to cycle.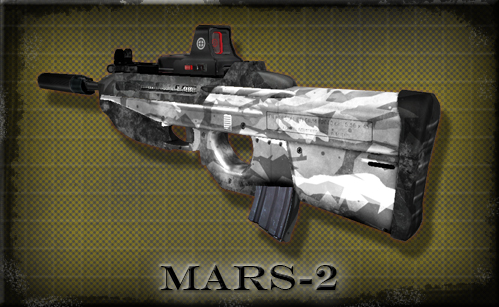 This is the MARS-2 Assault Carbine. Unlike all the other baby assault rifles with their slow firing rates, this son-of-a-gun fires at a blistering rate of 750 RPM. It also comes with a silencer and fancy-pants holosight, so you'll have no trouble turning your enemies into Swiss cheese! Unfortunately for you, this handy AR eats its ammo like candy and is a little difficult to reload. Don't miss. ;)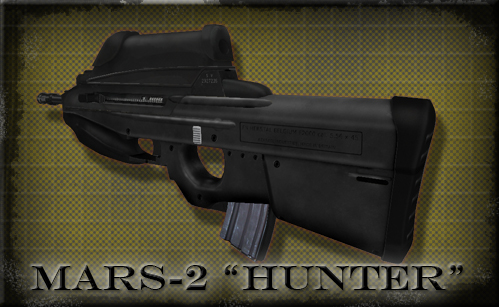 When subtlety and fancy camouflage patterns won't do it, the MARS-2 "Hunter" comes in. This is your classic MARS-2 carbine with a massive powered scope stuck on top. This is the kind of scope Space Marines dream about when they go to sleep. It may offer night vision, targeting displays, or meat vision... We haven't really chosen yet.
---
As usual, since nothing beats static pictures more than moving pictures, here's a video with the FG50 and FSSG-50 in all their glory! A variety of other big guns and classics make an appearance in the pursuit of violent frags. :)