That was 3 years since we post any fresh news, so what's happened? or changed?
Arctic Adventure was frozed for 1 year just little after the latest news, but that not so bad, after that project born with almost new and fresh anything.
First thing is to make less linear gameplay, add more mini quests and make levels more detail.
Second thing is soundtrack. Yes we got great musician in our team - Rodion Lovchev made fresh ambient atmosphere music for upcoming demo version of Arctic Adventure.
Third will be about demo. You may play older demo that made for testers, that was conceptual release. So if you miss that - you will get fully playable demo version with all new desigh, features and fight with boss.
One more thing is that the mod work standalone without steam and SDK Base. It based on modifed SDK 2007 base so you can adjust gameplay options just like in SMOD, but easy and simple.
Here is some screens to show what are added: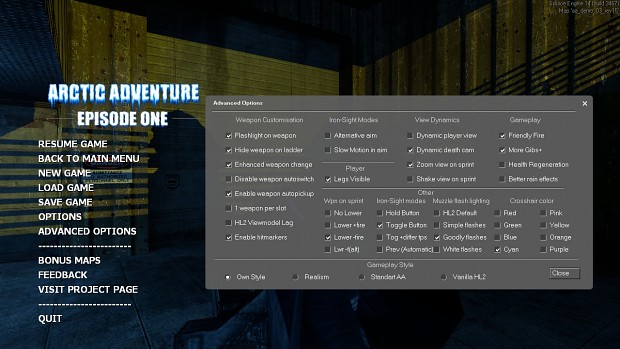 Also some answers for community questions;
The answer is - Hell yeah, gibs is always fun. You also can kill friendly npc with brand new realism mode, but don't expect that they will be happy. It's optional, you can disable it anytime.
The scenario have some sneaky moments so player can choose between kill anything that move or go without any kills.
Also one more thing - random events, so when you re play the map, some items will be in different places (Keycards and other)
It's not be so hard, but after some code additions playermodel can draw dynamic shadows properly and affect shadows ON player model via thirdperson and firstperson modes. You can see the difference between olden and dynamic shadows.
There is coming BIG update with demo release! Hopefully it's worth of wait :D