Ladies and gentlemen, here's the first screenshot from episode 2.
First, I'm sorry if I disappoint you, but that does not mean the second episode is about to come out. Hey, after all, I do all of the mapping, scripting and texturing by myself, cut me some slack ;-)
It's meant, however, to give you a sneak peek of the general setting of episode 2. Before you say it has nothing to do with episode 1, think about its ending. Every episode will start right where the previous left off: if you get a glimpse of an environment at the end of an episode, you will be able to explore it thoroughly in the next. Generally, every episode will be set in a different environment: I want to give to each of them an unmistakable look.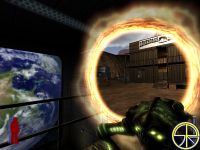 I will surely release more screenshots before releasing episode 2, but not any time soon. And now, if you excuse me, I have some mapping to do. :-D