Preview Thursday #3 - Fighting Fire with Fire
This weeks Question of the Week: What is your favourite Game Mode?
Progress on Content Release 1 (CR1) is rolling along really well lately and the entire development team feels like this release is going to be a huge step forward. I personally can't wait to get ingame with you guys and end the teasing! This week we look at aoc_firecrag, a more fantasy-based "Capture the Flag" map where the Agathia Knights wage war against the Mason Order on a rocky barren landscape in sweltering heat near flowing and sizzling lava.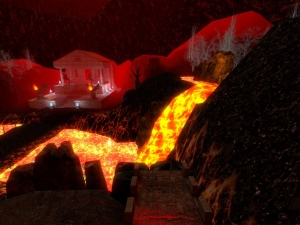 The ruins of a castle and fortifications long forgotten provide plenty of cover and the rugged landscape yields harsh results for those foolish enough to come unprepared.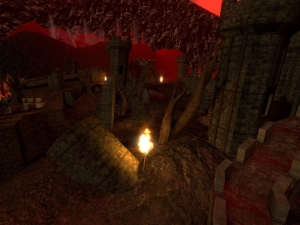 At the ends of both sides of the map rest a temple, Each holds a holy artifact, For the masons it holds the Nerconomicon, the book divulging all the secrets and mysteries behind the black steel of the Mason Order.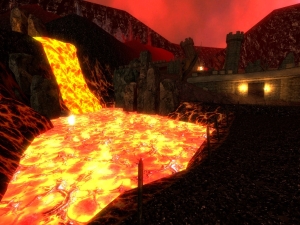 For the Agathia Knights it holds the true crown of the first king to ever rule over these lands, a dark day it shall be indeed if the Mason Order is successful in capturing it.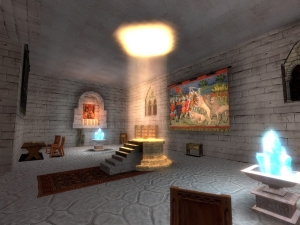 Each team must defend their respective temples and artifacts while also mounting an assualt across the lava ridden island and into the enemies temple, the first team to bring back the artifact to their temple 3 times wins.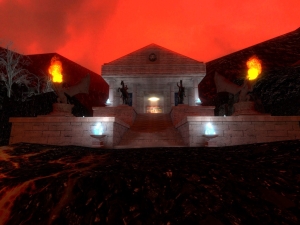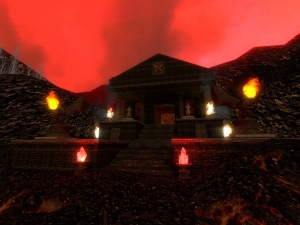 Quick Developer Blog- Humble and Optimistic
Just to let you guys know, you can now submit your questions to be answered in this blog by replying to this thread! We seriously listen and want this the progress in aoc to be as interactive with our fans as possible.
Anyway, on with the blog... Being a game developer often times you get so attached to your own game that you overlook its faults and sort of brush them off looking only in awe at the things you have achieved. Today, its become a different story for Team Chivalry, now we look at our game with humble eyes, we're trying to look at our game like we've never played it before. A big complaint we've always had is that the game is confusing, players don't understand what they're supposed to do/where to go or why their opponent seems to be able to land strikes when they cannot.
Well these core issues are the things we hope to address in CR1, we want to make players able to pick up the game and play to some degree of success immediately. Today in the public version there is no question that this is not the case for the average person, the game has a high learning curve and we really feel like this detracts from the amount of players that our game attracts. So in CR1 we have a ton of stuff planned (stuff that will be featured in later previews) that will help ease the transition from a FPS game to the First Person Medieval Combat game that Age of Chivalry is. Being innovative often comes with a price. For us this is one of the primary issues we feel needs addressed in the game and we are convinced that CR1 is a huge step forward in the right direction, I hope that you are there to take that step with us!
-------------------
Stay tuned next week where we have ANOTHER map preview coming your way...
In addition, we have several positions open for new beta testers for the game, help us make the changes YOU want to see, send application to: jobs@age-of-chivalry.com
Tibberius Bane - Age of Chivalry Marketing Coordinator