Sorry if we've been baiting you a little guys, but we're just so excited to be back developing for 1ON1 3.0!
We've been making steady progress on our custom kit loadouts. BFRHYS and I spent some time yesterday writing a python script to make class definitions, which *WONDER OF WONDERS* actually worked. So without further ado, let us present the standard kits and their possible contents!
---
Assault
Weapons
M16A4
AK47
L85
SCAR-L
Attachment Options
Aimpoint Sight
Full Metal Jacket Bullets (FMJ)
Equipment Options
Medipack
Flame Grenade
Specialist
Weapons
MP7
AK74u
M24
L96
Attachment Options
Aimpoint Sight - SMG
Silencer - SMG
Hollow Point Bullets - Sniper Rifle
10x Scope - Sniper Rifle
Equipment Options
C4 Explosives
Grappling Hook (To get those secret kits!)
Heavy
Weapons
M249
PKM
M11-17
Saiga S12K
Attachment Options
FMJ
Standard Magazine - LMG (Much faster reload, but less capacity)
Aimpoint - Shotgun
Equipment Options
Ammo Bag
Claymore Mine
Every kit will have grenades, a knife and a pistol (more on this below!)
---
New Models
Yes, that's right people, we're hoping to move to completely custom models and animations in 3.0. We'd just like to re-introduce our friend SkullTerror, who will be animating our weapons for 1ON1 3.0.
Because of this change we've had to scale down our roster of weapons somewhat, but we feel that you'll really enjoy using our new custom loadouts and you'll still have those secret kits to find, with our favourite C4 cannon and RPGs, and the random kits as well, with some new additions such as the flour bomb, Wiimote SMGs and Lightsaber.
We've already welcomed our first addition with the M1911 pistol from StrangeModul3, Twinke Masta, Defeat, xLongWayHome and Dr. Zoidburg from Gamebanana.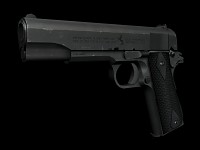 If you'd like to use this model in your Half-Life 2, do feel free to go over to their page on GameBanana;
Gamebanana.com
If you're interested in how we did this;



We'll probably be hosting the script over at BFEditor.