I started making a futuristic weapon for a project. That project is toast. Weapons for just for doing a weapon is not really me, and I made a character to go with.
The catch, nothing is optimized yet, so no video from a game engine, in short: work in progress.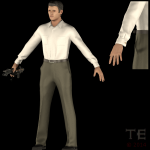 Noteworthy of all this is MakeHuman, this software has grown right into my heart, there is no way I had the patience to rig the character in such fine details. The skeleton works right out of the box.