24° of March of 1976. The day that begun one of Argentina's darkest moments. It is the day when democracy (or whatever that was ruling the country at the time...) ir overthrown by the third time in the same century by the military of this nation. The banner was the same as usuall, that the people need to be protected from themselves and the danegers of democracy and freedom. But this time there was something else. At this time was executed the Plan Cóndor (Condor plan), a plan that appeared in all the southamerican countries that were also under a dictatorship at the time (Uruguay, Brazil, Chile) and had as the main code the utter extermination of comunism (guess who gave us that idea and logistic?). The plan on itself was quite simple, just kidnap, torture and later execute anyone remotely related to that particular way of thinking.
In truth, it all started by chasing a series of guerrilas in tucuman (northren argentian province), followed by sistematic torture and execution of a few hundreds of freedom-fighters. However, it is thought that the total number of "desaparecidos" (the name that was given to those that were taken by the goverment and then killed) is as high as 40000, but only 19000 have been identified. Most of those men and weamen were civilians who had nothing to with it, but were caught in somebody's elses' phonebook.
One particular night, later known as the "Noche de los lápices rotos" (the night of the broken pencils) were houndreds of highschool students were adopted and tortured only because they were demaning an student bus toll.
Most of this horror were unkown by the population, and some still are, masked by our victory in the FIFA succer tournament that took place in the 78 in our country and by a new heavy consumist economy brought by the goverment that put us into one of our deepest crisis.
This dictatorship ended defenetely in december of the 83', brought down rapidly by our defeat in malvinas, but that's an story for some other time.
Finally, I would have to say this only:
Neither forgetfulness, nor forgiveness, but JUSTICE!
(btw, that's what reads in the image below, if you were wondering)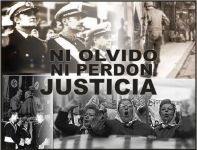 Mularac