Ka-17 "Flying Tank" (Letayushchiĭ Tank)
Here is another monster I've been working on: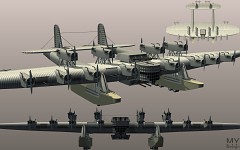 This huge monster is a prototype based upon the K-7. The K-7 was created by a Russian engineer called Kalinin, unfortunately, the K-7 crashed and the project was discontinued.
<-- This aircraft is in fact CGI. I think it's made by a group of Russian historians with a great love for large aircraft. However it is probably based upon one of Kalinins blueprints.