Since I have a little bit of spare time atm I figured why not reflect on some stuff. I'm pretty sure anyone reading this knows that 1187 is out. I've seen so many mixed comments about it that it sometimes confuses me a little bit.
Looking at the overall score that's currently a 8.3 I think I can safely say that Me and the rest of the team made something that's been enjoyed by the majority of the people that played it. I know that it's not perfect, there's a lot of things that I would've done differently. But I have to remember myself that this is the first ever game project I did.
Perhaps I should have waited and gained some skills before attempting a mod of this scale, but it wasn't my intention to create something of this proportion. At least not when I started work on it. Which makes me wonder also about how people nowadays look at mods.
A lot of gamers have been put down by quite a number of design choices. Say for instance the start of the mod which basically has the player wander around the apartment complex not really knowing what to do. I always found it interesting whenever I got the chance to explore a game in a way that wasn't forced.
So as the mod grew I learned new ways to use the sdk, learned tons of features that I could use in terms of entities and the way to trigger events and such. Because of that the first few maps in retrospect are pretty poorly designed and I spent a lot of time not only redoing most of the triggers but also a ton of scene revamps and graphical changes to update the visual aspect of those maps.
Let me demonstrate that by showing a screenshot of one of the first version of the first map.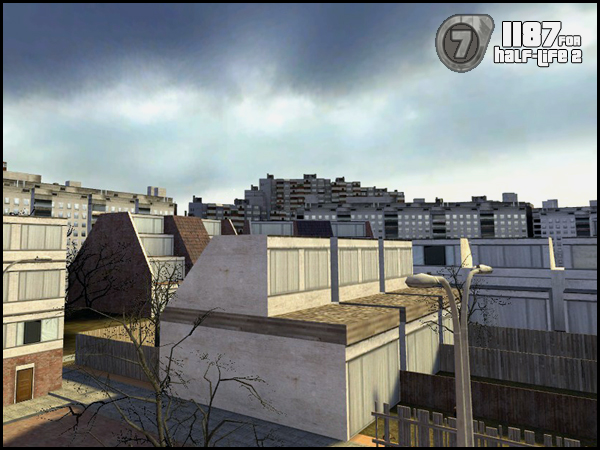 As you can see it's ugly, really damned ugly compared to the released version. It wasn't until I started work on maps 7 and onwards where I really started to get the hang of Hammer and it's entities. That in turn made me come back to older maps and update them. Because I wanted to do the best I could in creating a fun experience.
So, then there's John. John was my personal experiment to create a npc and try to make him enjoyable. It's a hit and miss when it comes to John. People either like him or hate him, but that's to be expected, as with everything in this mod, it was my first go, and I grew from working and designing him as the mod evolved.
I guess that in the end I sometimes do feel that I let people down, one of the reasons I never really tried to hype this mod was for the fact that I wanted to let the mod do the talking. Word to mouth imho is really the best advertisement you can never buy. And it does hurt when people put down something you spent 3 years of your life into crafting it.
So whenever I read that someone enjoyed the mod I am truly happy, not just because that I feel that I have not wasted my time, but also because I actually managed to bring some fun into another persons life. That's why I made this, not just for me but for others to enjoy it as well. So I truly do appreciate whenever someone steps up and tells me about the fact they overall enjoyed it. There's even been a few people that have become real fans of the mod, and that's something I am also grateful for, because these people picked up on the little nuances and small details I put into the mod.
It just feels that gamers have grown to expect something like a solid triple A quality from even mods these days. People love to put down games when they spot a glitch or when somethings not working right, and I'll admit I'll be cursing whenever someone finds a bug that I overlooked, even more so when it's a bug or glitch that shouldn't be there or something I actually have playtested myself and still ends up being there. There even been reports of glitches that simply didn't make any sense at all, and I have no way to fix those.
So yeah, I learned so much during these three years that once I start work on episode two, I am very able to create something that will be so much more polished and bug free that it'll be ten times more solid then episode one is.
Mod's have been around for a long time and of course they'll keep evolving and we've seen a lot of high quality stuff the last few years, but I'd like to remind people that mods like 1187 where created out of passion for games. Created by people that needed to create something to learn from. To do something they love. By not only playing games but be able to create one, even if it's a mod.
So yeah I guess it's time to wrap up this blog, and if you're still reading feel free to give me your two cents, I enjoy talking and discussing games a lot. So yeah that's my thoughts for now, tahnk you.
Joure