For the most part I just don't get why they bother. They spam even though our system doesn't allow URLs to be typed so they will do things like "Get free games from BESTGAMESONLINE [.] COM". For a start I would have thought that 99.99% of users would avoid the spam to begin with, but who would actually bother to copy and paste that URL and edit it to work? Some spam even without URLs or anything meaningful in their message (are they trying to establish system trust?).
And even if their spam manages to get through we are extremely proactive here and will ban then erase all trace of them from the internet, meaning at best they get a tiny bit of exposure (but not long enough for any visitors or SEO benefits).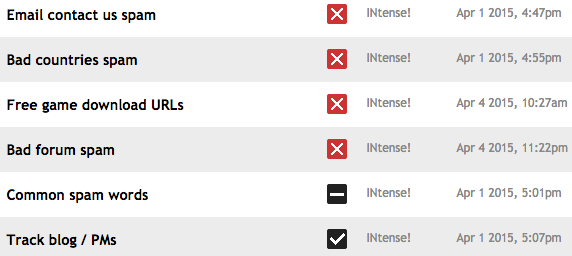 A basic look at our system
Either way the spam looks awful to our visitors hurting our reputation, distracts our users who want to see real amazing content from game and mod teams and wastes our time cleaning it up. While we currently get very little spam compared to what we see on some other sites, we ideally want to make it too hard so the spammers just give up and move on. Which is why we have just implemented a custom anti-spam system which updates on the fly. By being one-of-a-kind it should be very hard for the spammers to adapt and adjust too without significant work (unlike on Wordpress et al which have millions of sites using the same system, meaning there is huge upside for the spammers if they figure out a system). An approach like this has worked for us in the past, as it is a great deal of effort to get through just to spam on one site which will delete your message anyhow... and so far in the first 48hours no spam has made it in. Fingers crossed this continues and we will always do all we can to eradicate it!