Just a few quick words on the status of this project to let you know that it is still going to be happening. I have finished importing both Tifa's and Yuffie's new models. Yuffie is battle and field models while Tifa is those plus World Map and Chocobo mini game models. Here are screens of those two.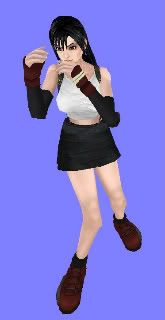 For FFVII Modders interested in playing with these before the installer is out here are the files.
Mediafire.com
Mediafire.com
Zack is finished being imported to FFVII PC, but I still need to resize/reposition him some more before he is finished. I would've been finished with him and more, but I got distracted while searching the nets under belly for custom meshes and textures of FFVII characters. A long search that yielded very fruitful results. So before that I was going to be short a few main characters, but not now. Here is a quick list of custom models that will be included in the installer. To make the cut the models had to be at least ps2 generation quality or above. Vincent, Red XIII, Cid, Cait Sith, Aerith, Reno, Rude, Elena, Rufus, Tseng, Reeve, Turk Vincent, Godo, Young Tifa, Chocobo, Sephiroth, Shinra MPs, Grunts, Soldiers, all Vehicles, some items, and dress variations of characters. All that on top of the completed PRP will make for a nicely enhanced experience. So that's it for now. Hopefully I can get a hand from one of my amigos to finish this project in the next few months. Otherwise look for a late summer release of the model installer.
A side project I'm brewing up is a Cross over from Level up. Yep I'm importing the Avatars of the guys from Conqueror of All Worlds into FFVII PC. I'm replacing Barret with Black Death, Cloud with Sir Bickle, and Aerith with Wizza. Not custom Content so It'll only live as a Youtube video, but fun none the less.