Each year there is a "Best teacher" award in Latvia where students vote on teachers and then the best from all schools are nominated and I am unsure of what happens next.
Anyhow, in my school, each year we jokingly nominate the teacher of Woodworking/Practical stuff (Teaching students up to 9th grade)
So this year I had an idea for a small joke, I made a poster of him in the style of OBEY's Obama Hope poster. Then whilst lessons were taking place I took one of the frames with a painting in it in the corridor and quickly exchanged it with poster of him. I was expecting that only few people would notice it, but I was wrong, during the next break there was quite a crowd around the poster, everyone taking pictures.. There was a cloud of positive emotion towards it, it was very nice that people really enjoyed my work, anyhow I am still anonymous about it, for fun, and to not to get into trouble with school for putting a poster inside the frame.. (I as the author am unknown apart from my classmates and other friends from 10th grades who know it was me)
It's pretty awesome going through the corridors and occasionally hearing conversations about the poster and how people wonder who made it.. :D The art teacher (doesn't teach us any subjects anymore) saw it, I thought she would be angry and would take it down, anyhow, she smiled and by coincidence came to me and my friends to ask whether we know who is the author, I replied : I dunno, it just appeared from nowhere in this break.. , for the first time in my life I heard her saying : Awesome! (translated from Latvian)..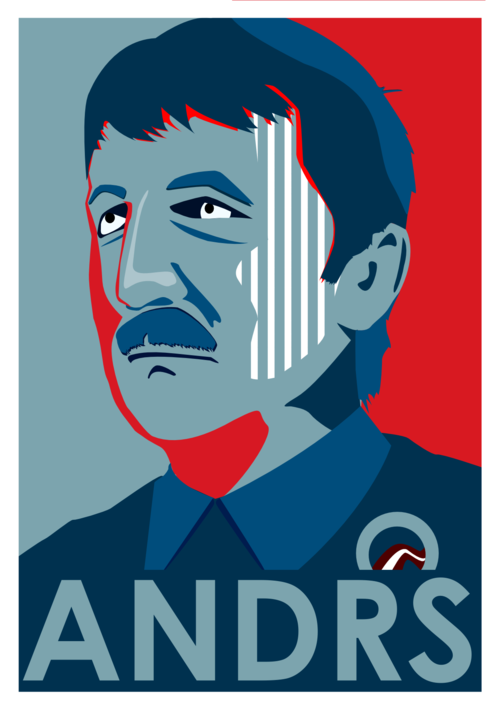 Anyhow, people seem to enjoy it so I doubt it will be taken down any time soon, the teacher in the poster hasn't seen it yet, would love to see his face.. :D Ehh, just wanted to share this as I am somewhat proud/happy of this feat..