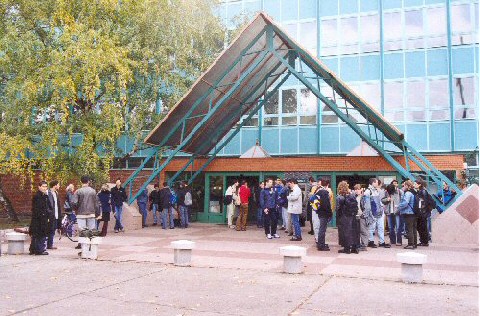 As I written before, I get to the Kecskemet College. This college is on of the best in Hungary.
Kecskemét College was founded on 1st January, 2000 with the merger of 3 tertiary colleges – the College of Mechanical Engineering and Automation, Horticultural Faculty of the University of Horticulture and Food-Processing and the Teacher Training College. As a result of the merger Kecskemét College has become the largest college in the Southern Plain Region with three faculties with different profiles.
After the merger of the above mentioned colleges they became faculties of the new Kecskemét College (Faculty of Mechanical Engineering and Automation, Teacher Training Faculty, Horticultural Faculty). The institute is authorized to award college-level degrees. All the courses of the college are accredited by the Hungarian Accreditation Committee. The number of the employees is 600 and more than 6,000 students study at the college on full-time, part-time or distant learning courses; taking part in BSc courses, higher-level vocational or postgraduate training.
The predecessor of the Faculty of Mechanical Engineering and Automation (GAMF) has been in the service of training engineers since 1964. The engineers who graduate from here can be found all over Hungary. Most of them have achieved success in the field of their original profession being the leaders or owners of private companies. Only a few of the graduates switch to find work in other fields. During its history GAMF has always been able to renew, open for changes and its education is based on high quality and strictness. The laboratories, the special teaching halls with machines and the computer laboratories are continuously developed. The biggest technical library of the region can also be found in this institute, giving our students the opportunity to deepen their knowledge.