The reson i have put up this second free game link page is i feel the other was ruined by general chat, so NOTHING but links and pictures of games are going here (well appart from this).
Rise and Fall Civilisations at War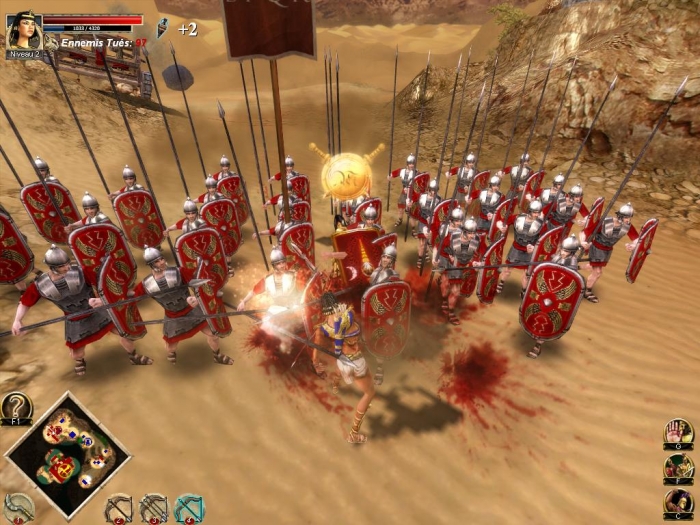 Rise and Fall is a great RTS,if you like rome toatal war you will feel right at home with this game. it has a 3rd person mode as well for playing as your factions hero which is pretty fun, usuly it has a mecanaries 2 point of view but in the screen shot above were the person is playing as cleopatra has zoomed out a bit.
any way download here Bigdownload.com
Next i have links to emulators the first (and best

) is kega fusion


kega fusion lets you play sega mega, 32x and sega cd games on your pc.
it is a great and simple to use, but there is a better version the fusion cd which has 800+ games on it and does not require install, i will find it and post it here soon, for now heres the link to kega fusion Emulator-zone.com
the link above is for to get kega fusion from the emulator zone, which is great, it has all sorts of emulators and roms. the top bar of the page has all the linkes to were you need so i dont have to post any more emulators
Ok next is command and conquer games, most know the older games are free but heres the links any way.


command and conquer tiberium dawn is the first c&c (unless you count the old rts dune games which some people do). its a great game but its lack of a skirmish mode ruined it for me, because you can only play the story mode so many times before you get bored. the link is here Commandandconquer.com

tiberium sun is next, like the first game i did not really like it that much (dont get me wrong i did like it). the problem was the skirmish mode had cheating imposible to beat ais, who if you were vs 7 of them all fired there hunter seekers at you and there ions or chem missiles which was pretty crap. the link is here Commandandconquer.com

last is for me the best c&c ever red alert one, i own countless copies of this game from pc to ps1 and psp and a downlaoded ps3 version, so i really think this is the best out of the three here and even otu of all of them, the link is here Commandandconquer.com
Next is the sega clasics disc, i have to give loades of links because i cant find the one i downloaded from.

those are some of the games on it, the top is sonic the hedghog (duh) the next is streets of rage and the last is michael jackson's moon walker. as i said befor there is over 800 games (i think its 845 but im not sure...) any way here is ome links, but some are torrents which you should not download unless you know to use utorrent or some other (but i wouldent use them any way).
torrents
Gamestorrents.com
mix of torrents and drect links but in a latin language
Guanakoo.org
if these dont work for you try typing in, sega classics v1, into google and see if you can find it.
Edited by: AirborneSn1p3r