The peace and tranquility of Rivellon has ended and the Damned Hordes (evil humans) have resurrected their dark master, the Lord of Chaos. He is the incarnation of evil burst forth from a hellish dimension, a demon with human semblance and his minions are members of a group known as the Black Ring. Together they fight against the famed wizard Zandalor and an unsung adventurer named Lucian, and they slay all of Rivellon's defenders under a bloodied and blackened sky. Welcome to our human / dragon / evil themed Divinity 2 Ego Draconis concept art competition.
The long and short of it is we have some great prizes to give away and we want to see some creative output from you guys. To win this competition, your challenge is to design the "Lord of Chaos and the Damned Hordes" in a 2D concept art piece, which would fit the world of Rivellon. Entries must be 2D concept art and the winning entry will be decided by two ModDB staff.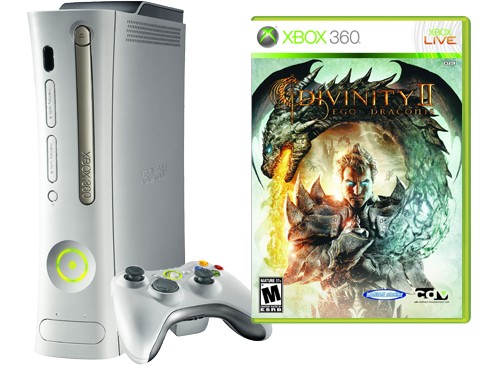 The Prizes
There will be one grand prize winner and a runner up, the prizes tab has the full breakdown.
Grand Prize
As the grand prize winner you will receive a brand spanking new XBOX 360 and a copy of Divinity 2 (or if you are a PC gamer you win a videocard of the same value as the XBOX and Divinity 2 for the PC).
Runner Up
The runner up will receive a copy of Divinity 2 for the system of their choice so you can take up arms against the Lord of Chaos!
The Deadline
The competition is closed, the entries have been posted and the winners have been announced. You have until this counter hits zero (4th Febuary 2010) to submit your entry. The winners will be announced a few days later on the 7th of Febuary.
How to Enter
Entrants may submit one entry. Finished renderings must be your original creation. When your crowning achievement is complete, submit your final entry by following the instructions below:
By entering this competition you agree to abide by all rules found on the rules tab. You must read this before submitting your entry.
Secondly, we require you to join in the competition discussion and share your work in progress shots in this forum thread so we can provide feedback and help you on your way to winning!
When your work is ready for submission, please zip it up and email it through to us. Good luck slayers!