It has been almost 1 year since TripleA stable version 1.3.2.2 was released, culminating a year long effort by me and the other devs.
Now, we are proud to present another year of effort into improving and expanding TripleA, by releasing to you the newest stable version 1.5.2.1
The main focus behind our work for this release has been 3 different parts:
First, we want to fix bugs and also refactor the engine to support future growth and allowing new types of games to be made. We have had considerable success with this, though unless you are playing a new map you probably won't see many changes from this.
Second, we wanted to improve online play, play-by-email, and play-by-forum. To this end, we have improved the online live lobby, and also re-written the play-by-email and play-by-forum code. Playing through these means has never been easier.
Third, and most importantly, we wanted to bring 3 new games to the community. All three are based on World War 2, starting in year 1940, just as Germany is about to invade France. They are:
World War II Pacific (pacific theater only)
World War II Europe (european theater only)
World War II Global (the entire world)
Due to size of each of these maps, they will not ship with the TripleA engine, but will be available for download separately, by use of the "Download Maps" feature on the main screen of TripleA.
In order to have these new maps work properly, with all their special rules and flavor, we have had to implement many new features inside of the TripleA game engine:
A full Political engine, allowing any map that uses it to allow dynamically changing of alliances and relations between different nations / players.
Allows scrambling of aircraft from designated territories or units.
Escorting of Bombers and Intercepting of Bomber runs.
Kamikaze aircraft attacks by Japan.
Units which give other units bonus movement (positive or negative bonuses allowed).
And many many many smaller features.
Most of the changes will be invisible to the user unless they are playing on one of the new maps. These changes simply allow a correctly configured map file to allow these things, it doesn't mean that older maps will have these features. Therefore we highly recommend trying out the new maps!
A few of the older maps have been updated to take advantage of these new features. Namely, "Napoleonic Empires: FFA" has been updated to use the new political engine (pictured). You can now play an 8 person game on it, making and breaking alliances until you are the dominant power of 1800-1840 Europe! (This map does come with TripleA.)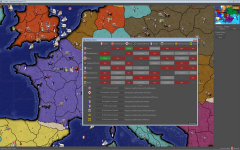 thanks,
Veqryn