Last Tuesday marked the end of another season. Congratulations to the Blood Oath Legion on their victory in this longer, four-month world. We'll be returning theworld to 3 months for the next round. A big thanks to everyone that participated, especially to the newcomers who have joined and helped us grow the community. Another congratulations is in order for the individual achievement winners. We've given everyone their achievements and you can also see the ranking results online.
This world saw several exciting new additions and changes to the look and feel of the game. The biggest and most obvious change was the addition of the store. Players for the first time were able to show support for Tribal Hero in the game directly, not just in chat or in their profile. Official Tribal Hero artist, Darnis, created new tribal themes that allow players to change the look of their cities and strongholds. Purchasing these themes not only helps keep the world running, but allows players to customize and adorn their cities and strongholds with a different look. As always, nothing you can purchase in the store will give you an advantage in the game.
Here is a city with the new Shipwrecked Pirates theme and a pirate stronghold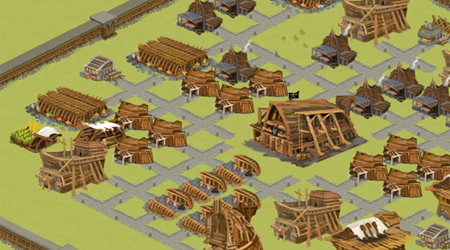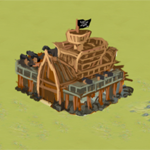 And here is the new Feudal Japanese theme: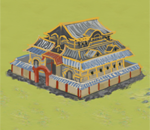 You can also purchase a War Elephant to replace your normal troop icon when you send out on the map.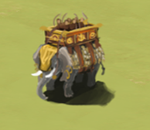 You can even mix and match different themes for each building in each city providing lots of customization options. Also, everything you purchase in the store is tied to your account and will persist between worlds.
What's this BOAB Thing?
The Battle of All Battles (BOAB) is a traditional event held at the end of eachworld where a host city is chosen and all players in the world are invited to kill of their units by attacking or defending in a spectacular, world wide clash that lasts for several days. See the BOAB Reddit thread in r/TribalHero for more details!
So, What's New For the Next World?
There are many new additions and changes slated for the start of next world(August 16th! Stay tuned to www.reddit.com/r/tribalhero for more details.)Perhaps the biggest change for individual players will be the reduction in training cost and training time for all units. Each unit will have the same upkeep, but the initial cost and training time is now reduced by 50%! A hoplite at level 10 in a level 9 or lower barrack took 43 minutes and cost 90 wood/120 crop this world. That means that next world, the same hoplite will be trained in 21 minutes with a cost of 45 wood/60 crop. This will make it easier for less active players to grow a large army, while also reducing the cost and time lost if you lose your army in battle. Training Ground units will also have the X for 1 bonuses doubled. That means that instead of "2 for 1", where you received two units for the cost of one, you will now have four units for the cost of one at the highest level of research in the Training Ground.
Another new item for the coming world is the ability to move your cities. There will be some limitations (one move per every two weeks), and you will have to start back at a level 1 Town Center at your new location, but with some kickstart opportunities, you will be able to get up and running again quickly. Now you can actually pick where your 1st city will go instead of being stuck with the luck of the draw. This will be coupled with a change in how many unused city foundations there are around each player so that you will have more opportunities to build additional cities close to you if you wish. This will also be helpful to new players as they learn about city layouts, being able to start over without a large penalty is something that they certainly need, and this is a welcome addition. It won't be available in the new world at launch but will be coming shortly.The largest change affecting everyone at the tribe level is with Stronghold spawn. Once all existing Strongholds are occupied, a new Stronghold will spawn every 8 hours! This is a massive change, and should prove to be interesting if you're into supply and demand curves, or perhaps even if you're not.Something that will help both tribes and individuals is the ability to remove troops from assignments.
Another move that is sure to delight everyone, is that large battles (those with over 1,000 attacker upkeep) will be instantly viewable instead of having to wait for the start of the sixth round.Last but certainly not least, is the announcement that new items will be available soon in the Tribal Store. Darnis has created a new cobblestone road set.We'll send out another update after the new world is live.