Our brave boys are taking on La Ville-Lumière at the 6th Annual Paris simulations expo, starting today, September 30 through until Oct 2!To support them in their effort, we've created a helicopter-load of new assets, which you may greedily feast your eyes upon below.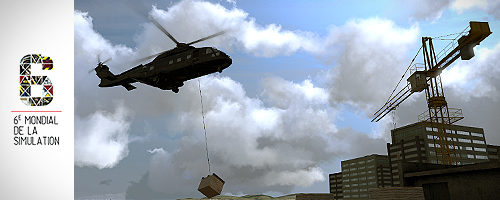 Take On Paris!
We hunted down two of our top men to answer a few questions on programming Take On Helicopters, created some brand new screens, complied a technology check-list aaaand last but not least, put together a new video showcasing a small part of our rope simulation: sling-loading!
Here's an extract from the full interview with a couple of Bohemia Interactive's Senior Programmers, Frantisek Novak and Jan Kadlec:
How does Take On Helicopters differ to the previous projects of which you've been a part?
Frenkee: Take On is, from my point of view, a different game, when compared with OA or A2. OA was "just" an A2 extension, that is, the underlying gameplay was same – the goal was to add new features and improve/fix existing features.
Řrřola: There is more data in TKOH than in any previous BI game. In A2OA the designers tried to work inside the constraints of the engine; in TKOH they overrun them and tell the coders to make it work.
Be sure to read the full interview across on the main Bohemia Interactive page, along with a whole bunch of new screenshots!The new video below demonstrates a little of the sling-load aspect of our rope simulation!
We've created a small 'technology check-list', where we;ve tried to be honest about what our flight dynamics are capable of, and where we see room for improvements, as we support the game after its launch on October 27:
FeatureStatusAutorotation

Transitional Lift

Retreating Blade Stall

Vortex Ring Stateplanned in patchFuel Consumption

Weight Load

Wind Direction & Speed

Engine Temperature (hotstarts)

Transmission & Engine Stress (overtorque)

Rotors, Landing Gear, Hull & Avionics Damage

Authentic simulated gauges in 3D cockpit (Barometric altimeter, RPM, Torque, Temperature) simplified gauges as helper in both imperial/metric units.

Winch, Sling, & Fast-rope Simulation

Interactive 3D cockpit with simplified startup sequences based on real life operating manuals (electrical source, starter, APU, throttle, radio, lights)

Scaleable difficulty settings: Autohover, auto-trim, auto-startup, reduced stress limits.

Interactive aircraft inspection/pre-flight checks

Maintenance & customisation of helicopter equipment

Dual controls allowing to switch pilot and copilot roles during flight.

As a copilot player can operate infrared camera, searchlight, doorguns