Hey everyone! Super big news! Tabletop Simulator is set to release on Steam Early Access on Friday, April 18th. Check the "Coming Soon" tab on Steam, we're there! Here is our store page. Feel free to join the official group tied in with the Community Hub. Everyone who supported us either in the Kickstarter or by pre-ordering $10 or more, will receive their Steam keys by April 18th.
Official Steam Release Trailer: Dropbox.com
Beta v.10 is now released! Since this is the last patch before the Steam Early Access release, we want to make sure we get all the issues taken care of before then. Please post any bugs, issues, feedback, and suggestions in the Beta v.10 forum thread.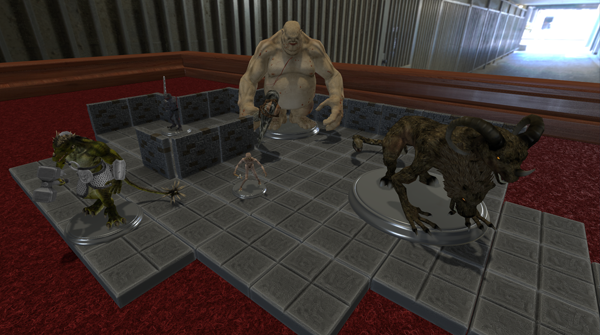 Features:
5 more RPG Figurines have been added Ogre, Chimera, Dragonide, Ghoul, Lizard Warrior

Dungeon tileset has been added, you can now build your ultimate RPG dungeon for your campaign

Dungeon tileset uses a grid system for placement to make it easy for you to create your dungeon, then you can lock it in place

Grid system has been added for Chess, Checkers, Reversi, and GO

Kimi Kat figurine has been been added

Server Browser now shows the current game mode and name of the player hosting, you can also block this player and they won't show up

You can now deal and reset each deck individually

People played with on steam show up under the recently played section within the steam overlay

Wood, Felt, and Glass surfaces now have different physics properties
There is now a private notepad if you need to keep track of something personal
Full details and patch notes can be found on our website at Berserk-games.com
Not only can you play board games and tabletop RPGs, but you can create fun stuff like this: