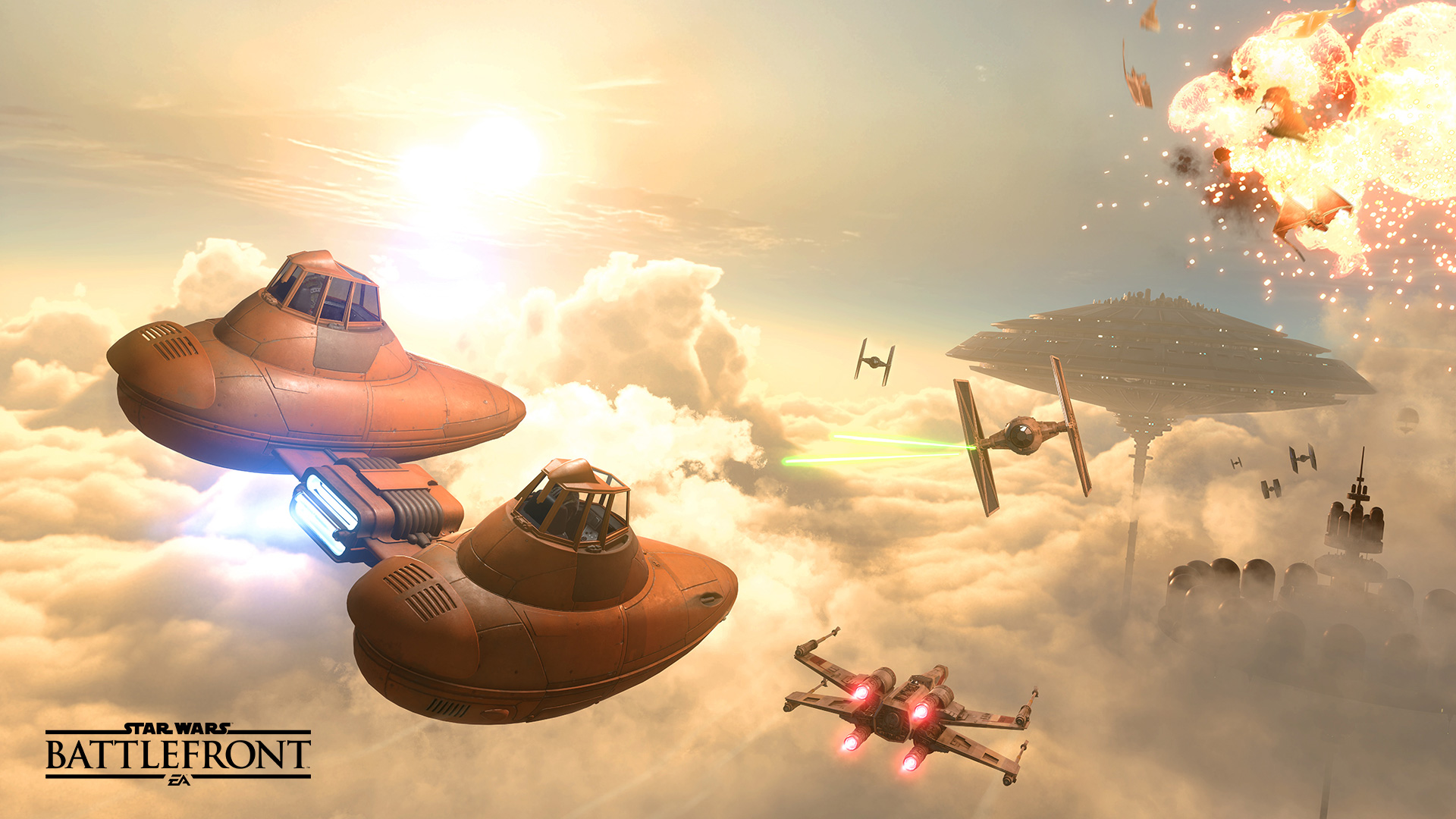 Our team has been hard at work to bring new content to the battlefront with the upcoming Death Star Digital Expansion, and we wanted to remind you that there will be a week-long free trial of Bespin from September 12th to September 18th to let new players try it out. All players will have the chance to go hands-on with the maps, modes and heroes from our Star Wars™ Battlefront™ Bespin content, free for a limited time. If you don't own the Season Pass and haven't played the new maps and modes of the Bespin Digital Expansion yet, this is your chance.
All players on PlayStation 4, Xbox One and PC will be able to check out the four new Star Wars Battlefront Bespin Maps. This includes memorable locations in four multiplayer maps set on the Cloud City of Bespin, from the platforms, bridges and unforgettable white hallways of the Administrator's Palace, to the dark, industrial corridors of the Carbonite-Freezing Chambers. We've also added a map called the Bioniip Laboratories which, our lore-savy fans out there will know, is where cybernetics and other bio-implants were manufactured.
Experience a new game mode, Sabotage:
As part of the occupation attempt, the Empire has deployed several tractor beams on the surface of Cloud City to prevent Rebel ships from escaping the planet. In order to power the tractor beams, the Empire makes use of Tibanna gas generators that draw from the Tibanna gas native to Bespin. For the first phase of the game mode, the Rebels have arrived at the location where a few of these generators are stored. The Rebels must fight their way through the Imperial defense, plant charges on the generators and ensure they detonate before time runs out. If successful, the second phase of the game mode begins, as the Rebels must fall back to their Extraction Point and defend it until the transport ships are ready to leave.
The Star Wars Battlefront free Bespin Trial will kick off on September 12th, 2016 and come to a close on September 18th, 2016. Make sure to log in during this time frame to experience the Cloud City and to celebrate all things Star Wars Battlefront.

Bespin Free Trial FAQ:

Q.) Will I be able to unlock the Bespin Hutt Contracts?
A.) While you will be able to access the free Hutt Contract weapons, the Bespin specific weapons and Star Cards will only be accessible to our Season Pass and Star Wars Battlefront Bespin Digital Standalone Pass holders during the free trial event.

Q.) How many hours or days can I play the free trial?
A.) You will be able to log in and play the Star Wars Battlefront Bespin free trail content starting September 12th, 2016 thru September 18th,2016. After that time, you will need to own either the Season Pass or the Star Wars Battlefront Bespin Digital Standalone Pass to access the content.