Starships are the driving force behind expansion in Star Empire. Your fleets will survey distant worlds, establish new colonies, and defend your claims among the stars. At the outbreak of war, your fleets will clear the way for planetary invasions.
Starships have three primary roles: exploring the map, attacking enemies, and transporting armies. Multiple starship classes are available, each specialized or generalized according to these roles.
Combat and Exploration - General Fleet Mechanics
Each starship has three ranges associated with it - attack range, scan range, and movement range. On each turn, a starship can move up to its total movement range. Starships can move to any unoccupied tile within range, regardless of enemy positions.
Likewise, starships equipped with weapons can attack any starship within range, even if there is not a clear line of sight from the attacker to the target. The attacking starship's weapons will deal more damage the closer a target is to it, and less damage if the distance to the target is greater.
Finally, every starship has an effective sensor range for surveying planets. Surveying a planet reveals information about its surface and environment. Planets must be surveyed prior to being colonized or invaded.
Most starships - all except Builders - have to capacity to embark at least one army. Embarked armies can land on unclaimed planets to establish colonies or on hostile planets to initiate a planetary invasion.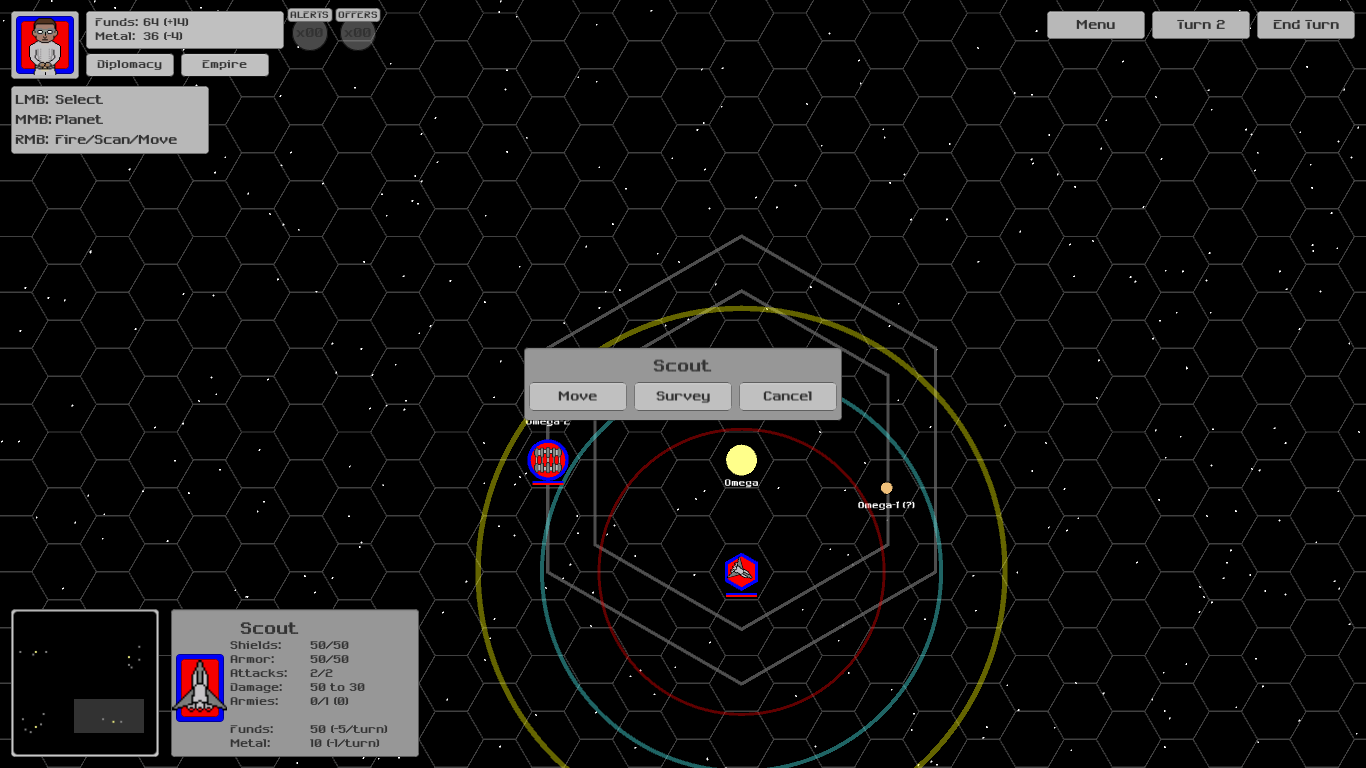 Starship Classes
Star Empire features five unique classes of starship, each tailored to a specific role. Every ship has something to offer in both exploration and warfare, but for any specific task there will be a starship that generally performs above all others.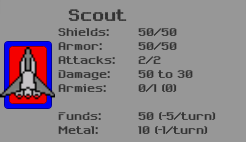 Scout
The Scout is the fastest starship available to your fleets. Scouts push your empire's frontiers, uncovering new worlds and establishing distant colonies. Scouts are equipped with faster engines and further-reaching scanners than any other ships, but they are poorly outfitted for combat. Scouts can embark a single army to claim newly uncolonized worlds, but they can be easily overwhelmed if caught behind enemy lines.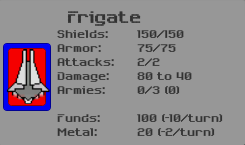 Frigate
Frigates act as a general purpose military warship. Frigates are not as fast as Scouts or as powerful as Destroyers, but they are formidable in large numbers. Frigates can embark up to three armies to claim planets and invade hostile colonies.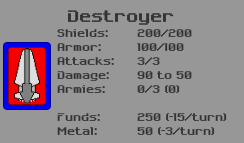 Destroyer
Destroyers are the most powerful warship. They are slower than other ships, but what they lack in speed they make up for with sturdy shields and powerful weapons. Destroyers provide a reliable backbone to an empire's defense or an impenetrable front line to a military campaign. Destroyers can embark up to three armies to support both colonization and invasion.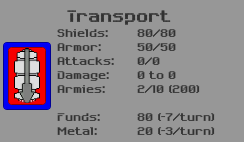 Transport
Transports are specialized landing craft designed to support large-scale invasions. They have no weapons of their own, but they can embark up to 10 armies. After the main battle fleet has cleared away an enemies warships and battlestations, transports can swiftly overwhelm the enemy's planetary defenses.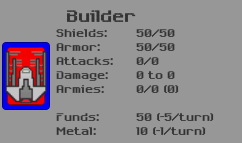 Builder
The Builder-class starship is unique in Star Empire's fleet. Builders are the only starships that lack weapons and are unable to transport armies, and they are equipped with only light shields and armor. Instead, Builders provide the empire's infrastructure. Builders can directly build shipyards, battlestations, and planet-killing superweapons. Builders can be built in shipyards or launched into orbit above any colonized planet. Although they offer little to an empire's fleet power, Builders are an indispensable part of any interstellar military.