Long time no post? Well, I've been busy making some other games... But I'm back working on Scrolling Survivor, and the new levels are no joke !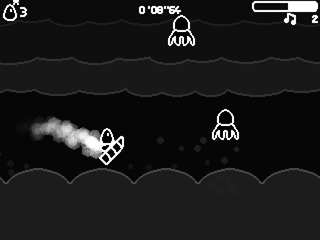 Early Access
First, I'd like to tell you about FrenchCows. This website allows some developers to try some neat games from the most beautiful country in the world. Of course all games are in English ! Actually, for as low as 4€ (~ $5.50), you can download a bunch of 9 games. Some are already finished and playable, some are early-access versions... including Scrolling Survivor !
The version available through FrenchCows is almost feature-complete, including 7 levels, 17 sub-levels and online leaderboards ! It's the perfect way to discover the game !
So, what are you waiting for?
(By the way, I also made a Facebook page, so you can survive the scrolling even in Facebook !)
New Levels
In Scrolling Survivor, each level adds a change in gameplay. For instance, the Robot Factory seems pretty classic with its Super Meat Boy-esque saws and conveyors belts :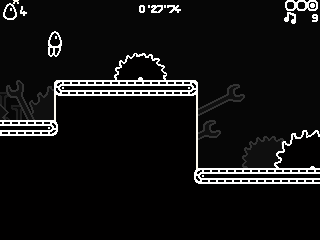 That is, until you run into these doors. The only way to open them is to press the spring buttons in the right order. But as you may know, Scrolling Survivor is an auto-scrolling platformer... and the scrolling does not wait until you open the door !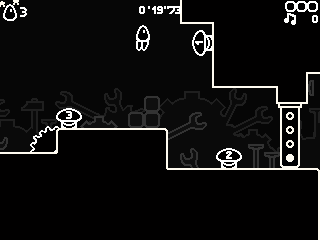 Another game-changer is the Snow Storm level. This stage is already quite hard, with many stalactites, cannons and even giant snowflakes trying to slow your progress...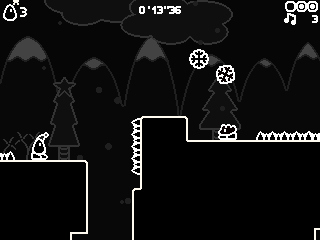 However, as if it wasn't hard enough, there's another enemy which you cannot see in screenshots : wind. The wind will constantly push you either left and right, and you will have to take it into account while jumping over spikes and enemies.
There is another level I'd like to show (which has no name for now, but feel free to suggest a name), and the screenshot needs no further explanation !
Just look at this :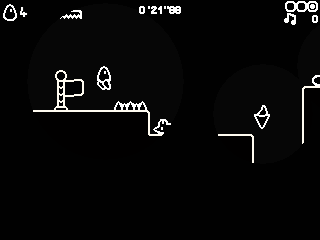 Here's one question : can you find which game, and especially which level in this game, inspired me to make a stage where you can only see what's around you?
That's all for now. See you later ! Be sure to like Scrolling Survivor on Facebook, and if you have some more time, what don't you play the early-access version?