Greetings Fellows,
I haven't been working much on stuff past week but I will show you what i have.

Island
I have been workingout the basic shape and texture of the island Lyndiath. I made some sketches during class so that's why it is on lined paper.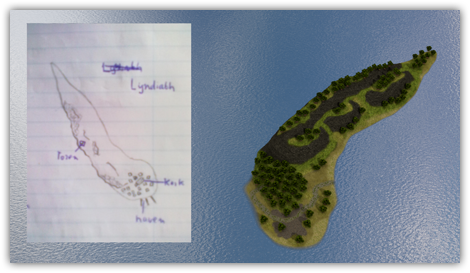 An early render of the island Lyndiath. Left in the picture is the sketch.
This picture is rendered by blender where I put some random trees on it for the look. The texture has to get a little more detailed but it has the shape now.

Concept sketches
During another class (I'm often bored at college) I've been drawing some concepts for the characters. I will not show them here but you will see a model coming along soon.
Thanks for your time!
Greetings,
MrEmjeR