Roughly a week or so ago I played a game created in Raycasting Game Maker and it really opened my eyes, not because of the graphics or features but the smooth efficient game play that went along with it and at 4mbs the game was convenient for my ruthless net speeds.
So I decided to create my own project called Rage Frenzy. I mostly work in 3D (link to my Unity 3D game Dead Block - Moddb.com) so working with 2D and sprites was a change and I must admit it was a lot more pleasant then what I though it was going to be. The game engine itself is great for a basic wolfenstein clone but in many ways lacking the features and options to expand. I'm finding it more of a challenge to expand the game because of the engine but for a free small easy game engine its spot on.
Rage Frenzy is a fast past fps zombie killing night mare which I tried my best to include the horror theme to this game making it a spooky and unpredictable as possible for a wolfenstein age game.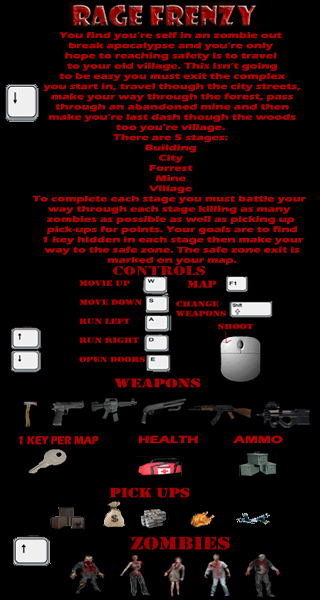 Here are some of the features
6 different weapons which the player will have
to find though out the stages including:
Axe
Desert eagle
M-16
Ak-47
Shotgun
P90
5 pick-up items which range in different point amounts.
5 different zombies which vary in speed/attack and agility
5 different environments stages including:
Inside building
City streets
Forrest
Abandoned mine
Village
I did enjoy creating this game and would like to improve and expand so if you guys got any request/ideas or feedback feel free to comment.
smallcombe